My hunch is the Distant Sounds came out of Bartlett High School in Webster, Massachusetts, about 15 miles south of Worcester, though I can't say for sure.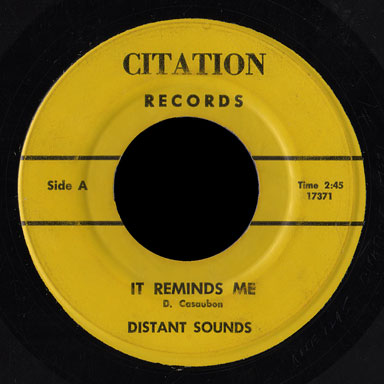 "It Reminds Me", written by drummer Dennis Casaubon, is a fine example of New England garage. The band's name is appropriate given the somewhat murky recording quality, but I think it all adds up to a great record. The guitarist picking notes off chords combines well with the keyboards in the background. The vocal harmonies are great and I like the crude guitar solo.
The flip is a slow surf instrumental called "Dreamin'", written by Ben Bembenek. The record was pressed at the Rite plant in Cincinnati, Ohio, a low-cost plant used by many bands at the time and released on the Citation label.
It's pretty hard to read the other names on the signed copy Ally posted recently: I can only make out Bob and Ed, and Denis Casaubon is spelled with one "n" in Denis.