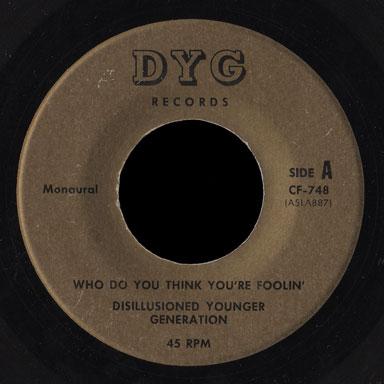 Here's an obscurity by the Disillusioned Younger Generation from Eagle Rock, California, in the hills of northeast Los Angeles, near Pasadena. Band members were:
Dennis Moore – vocals and lead guitar
Dave Lobrano – rhythm guitar
John McMullen – bass
Greg Lobrano – drums
The songs were recorded at Custom Fidelity Studios in Pasadena and released on the custom DYG label. The great track here is "Who Do You Think You're Foolin'" while the flip "A Man" is good but drags a bit.
Rhythm guitarist Dave Lobrano wrote to me:
I started playing guitar in 1964 at the tender age of 14. About 2 years later, my brother Greg got interested in music and started banging on the drums. We would spend many hours together practicing and having fun.

In 1966, my sister's husband John decided to try his hand at playing the bass guitar. Soon we formed a three-man band calling ourselves "The Stubs". We played at parties and had a lot of fun. Then one day we got a call from a guy about our band. We met up with him and found out that he played guitar and would like to join us. He was a pretty good guitar player and he liked to sing. So, we continued to play at parties, dances, and for anyone who wanted to hear us play.

Dennis was a talented guy and wrote several songs. We decided to change the name of the band. We were contacted by a nice lady and her husband. They really liked the band, and asked us if we would be interested in someone to help promote our music. Well, we agreed to it and together they got us several gigs to play. They really liked the song "Who Do You Think You're Foolin'" and set us up for a recording session. That was in 1967. The record was released somewhere in Texas. I guess it never really took off. A few months after the recording, the band broke up. Greg and I never heard from Dennis again, he moved away. I continued to play but only at home and with friends. I still enjoy guitar playing all these years later.
A blog called CoInside has a good story about finding 28 copies of this record for $5 and selling them off for a small fortune.
Dave tells me John McMullen has passed away.