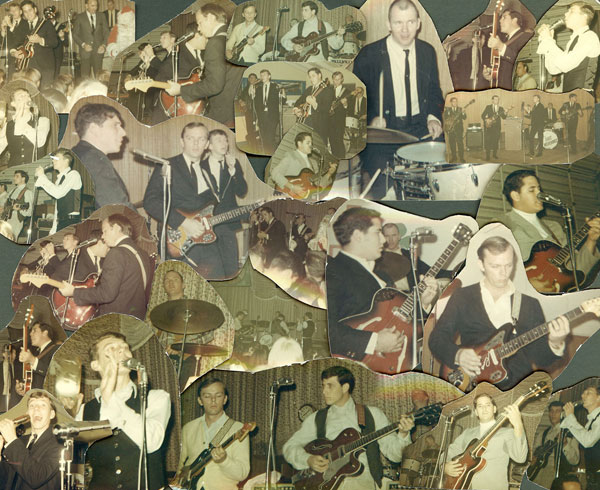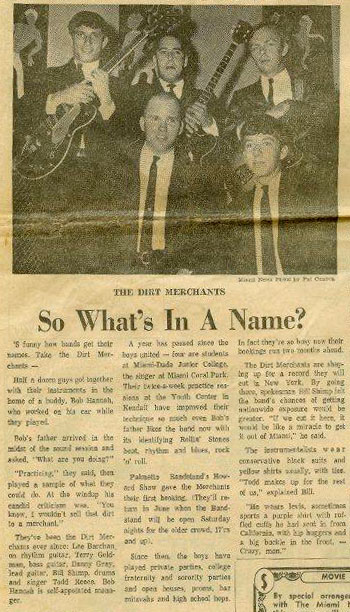 Todd Reece sent in the story and photos of his band the Dirt Merchants, a Miami group that unfortunately never recorded. Todd was lead singer, other members were Danny Gray lead guitar, Lee Barchan rhythm guitar, Terry Goldman bass, and Bill Shimp on drums.
Todd Reece: We were strong at all the local spots from the p.a.l. to frats., etc. We played with, and I knew people from many of the bands you already mention.

Evil got to make their record, sadly because an audience screaming contest at the fair gave them the edge over us. It came down to us and them at the battle of the bands……alas that's the way it goes!

I went to Coral Park, while most of my competition came from Southwest. I was the lead vocalist, and the youngest in the group. The rest of the guys were at Dade Jr. College. Our manager Bob Hannah was the little round Santa at p.a.l., you see in the pix.

We were the guys doing all the Animals and Stones, as they came out on record.

I left the dirt merchants to start another group, like an ego maniac lead singer would do, that was "̧Chelsea's Children." This group shifted to a lot of Love and Byrds. We were the house band at "the Depot" on U.S.1, across from the U of M. We played on the Rick Shaw TV show. I noticed Bill Banye went on to join together with some other folks, after our band Chelsea's Children split.

My circle the next year included: Wet Paint, the Razors Edge, the Collection, the 7 of Us, nrbq, and Blues Image. After that I moved on. I have done a band a decade since. None with released recordings. I am currently recording a cd in atlanta. It is mostly covers of things from back in the day. I am calling this bunch of musicians "Big Love Day". The album title at this point is "Covering the World".

Q. So I take it the band never made it to New York to record, like the article says?

No, I left and started Chelsea's Children. You of course know what a wild year 1967 was, and I went far into hangin' with bands and not playin' for quite a while. Foolish youth!
Miami News article:
So What's in a Name?
'S funny how bands get their names. Take the Dirt Merchants –
Half a dozen guys got together with their instruments in the home of a buddy, Bob Hannah, who worked on his car while they played.
Bob's father arrived in the midst of the sound session and asked "What are you doing?"
"Practicing," they said, then played a sample of what they could do. At the windup his candid criticism was, "You know, I wouldn't sell that to a dirt merchant."
They've been the Dirt Merchants ever since: Lee Barchan on rhythm guitar, Terry Goldman, bass guitar, Danny Gray lead guitar, Bill Shimp drums and singer Todd Reece. Bob Hannah is self-appointed manager.
A year has passed since the boys united – four are students at Miami-Dade Junior College, the singer at Miami Coral Park. Their twice-a-week practice sessions at the Youth Center in Kendall have improved their technique so much even Bob's father likes the band now with its identifying Rollin' Stones beat, rhythm and blues, rock 'n' roll.
Palmetto Bandstand's Howard Show gave the Merchants their first booking. They'll return in June when the Bandstand will be open Saturday nights for the older crowd, 17 yrs and up.
Since then, the boys have played private parties, college fraternity and sorority parties and open houses, proms, bar mitzvahs and high school hops. In fact they're so busy now their bookings run two months ahead.
The Dirt Merchants are shaping up for a record they will cut in New York. By going there, spokesman Bill Shimp felt the band's chances of getting nationwide exposure would be greater. "If we cut it here, it would be like a miracle to get it out of Miami," he said.
The instrumentalists wear conservative black suits and yellow shirts usually, with ties. "Todd makes up for the rest of us," explained Bill.
"He wears levis, sometimes sports a purple shirt with ruffled cuffs he had sent in from California, with hip huggers and a big buckle in the front. Crazy, man."