The Delights from Chicago cut this excellent cover of the Kingsmen's "Long Green" that surpasses the original in energy and excitement, The Delaware label released it backed with "Find Me a Woman".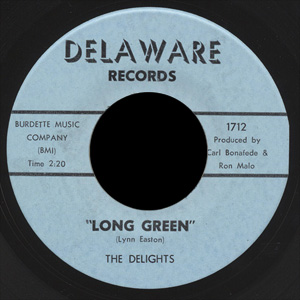 The Delights were Gregory Grimes, Vincent Schraub, Norbert Soltysiak, Robert A. Bluff, and Louis Sanjurio.
They followed up with a cover of the Zombies' "Just Out of Reach" backed with "Every Minute, Every Hour, Every Moment" on Smash, then disbanded.
Norbert (Norb) Soltysiak later joined the Hardy Boys, a band that released two lps on RCA as a tie-in to the TV show of the same name. The Delaware label also released A.J. and the Savages organ-groover "Long Long Time".