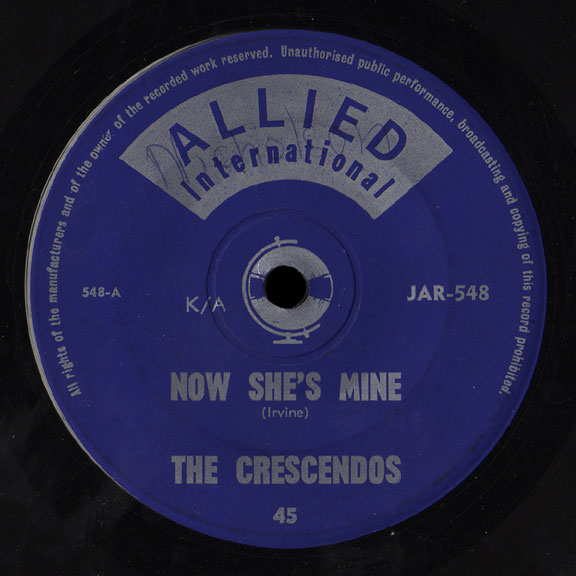 The Cresendos (sic) consisted of Graham Johnston lead guitar, Max Johnston rhythm guitar, Ian Irvine bass guitar, and Bryan Stewart drums. The band began in 1965 in the small coastal city of Wanganui on the north island, about halfway between Wellington to the south and New Plymouth to the north.
In 1966 Allied International A&R man Fred Noad saw them at a talent contest. Supposedly they recorded their only 45 in a local warehouse. The label released it at the start of 1967 with their name misspelled on the label as the Crescendos – except their name was misspelled in the first place and you could say the label got it right.
"Now She's Mine" is a great original by Ian Irvine. The vocals and lyrics are excellent and Graham Johnston really helps distinguish the song with the variety of sounds he lays over it. The neat buzzy tone comes from a home-made fuzz pedal created by someone from the local post office.
"I Want Your Love" is a ballad with a cool echo effect on the opening chords. It was written by Johnston – Irvine – Berryman.
Photo and most of the info from the liner notes to Wild Things vol. 1.