Barry Cowsill, the group's bassist, had been missing in New Orleans since the hurricane in September, but this week his body was identified.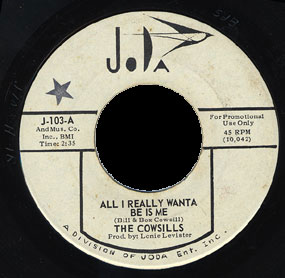 I originally posted this record a while back – by odd coincidence I found this 45 in New Orleans last year. I'll repeat it in his memory, especially as these are rare tracks never put on any Cowsills cd that I know of.
The first incarnation of the Cowsills consisted of four brothers, Bill, Bob, Barry and John, from Rhode Island, managed by their dad.
"All I Really Wanta Be Is Me" / "And the Next Day Too" was their first 45, very fine folky teen garage, released on Johnny Nash's Joda label. Supposedly it was the only record on which they played the instruments instead of studio musicians until they recorded their "In Concert" lp in 1969.
When this 45 was recorded in 1965, Barry would have been only 10 or 11 years old. Within a couple of years the Cowsills went pop with their mom Barbara and sister Susan singing along.