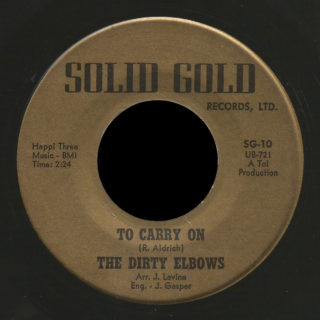 The Dirty Elbows came out of the Highland and Poughkeepsie music scene. Around 1966 they cut one excellent single on the Solid Gold label, "To Carry On".
Members were:
Gene Baker
Russ Aldrich – lead guitar
Jimmy Galuzzi
Al Friedman
Reggie Ward
Russ Aldrich wrote the A-side, "To Carry On" a song that shines from the opening riff to the harmony vocals and excellent guitar break.
The flip is a harmony ballad, "I Love You Girl" by G. Whitsell, Jr.
Released on Solid Gold Records SG-10 (UB-721/2), the labels credit J. Levine with arrangements, and engineering by J. Gasper. Both sides are "A Toi Production" and published by Happi Three Music, BMI
The Poughkeepsie Journal reported them opening for the Animals on April 16, 1966, along with a number of other local groups: the Sepians, the Mark IV. the Jule Ettes, the New Pyramids, the Royal Coach men, the Barons, the Sportsmen, the Benders and the Courages. They also played the Club 44 in Pleasant Valley with the Aborigines.
Russ Aldrich continued in music, including with Spyder in the early '70s and thereafter mainly as a blues guitarist and was featured in another article in the Poughkeepsie Journal on June 30, 1989. Russell Aldrich passed away on March 24, 2015.
Solid Gold also had a 45 by Shorty Billups "Alone / Shake Off That Dream".