The Fabulous Depressions formed in New Ulm, Minnesota, a small town southwest of Minneapolis, in 1964. It took them until 1967 to release their only and excellent 45.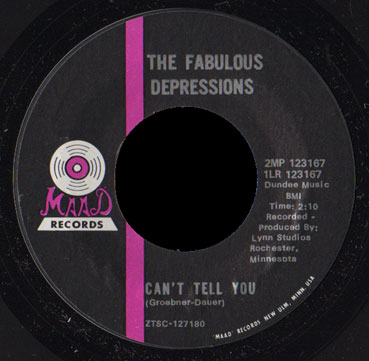 The band went through several lineup changes. By the time it came to record, it included original members Phil Groebner on lead guitar, Peter Kitzberger on organ and Jim Dauer on bass, plus third drummer John Ginkel and vocalist Randy Evans.
Tom Lindsay had been their vocalist, but he left to join the Royal Emperors of Owatonna. Original drummer John Tretault left in 1966, and was replaced for a short time by Greg DeBerry before John Ginkel joined. Ginkel had been in the Shags with his brother Tom, releasing one 45 on the Concert label "Louis Louis" / "Summertime News" (Summertime Blues).
"Can't Tell You" is a very catchy original by Phil Groebner and Jim Dauer, and features a short but devastating solo by Groebner. The flip is a good version of one of the Blues Magoos' lesser songs, "One By One". It was recorded at Lynn Studios in Rochester, Minn.