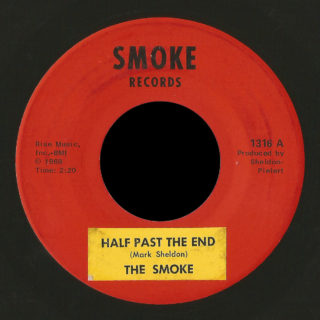 "Half Past the End" by the Smoke is hard-rocking and heavy on the keyboards, which I don't usually like, but it has some lead guitar work that hooks me, and features a solid performance by the entire group.
The group included Mark Sheldon, who had played bass for the Mussies on their 1967 Fenton single, "12 O'Clock July" which is a great psychedelic take on Link Wray's "Jack the Ripper" b/w one of the better versions of "Louie Go Home".
Other members of the Mussies were Chic Ericksen (lead vocals), Paul Knapp or Paul Nabb (lead guitar), Tom Mann (rhythm guitar) and Bill Johnson (drums). I don't know if any of them played on the Smoke single from late 1968.
The Mussies & the Smoke came out of South Haven, Michigan. Mark Sheldon wrote both songs on the Smoke single, "Half Past the End" and the flip, "My Mama". Both published by Rise Music, Inc. BMI. Mark Edward Sheldon registered the copyright for "Half Past the End" with the Library of Congress in February 1969.
The Smoke single was produced by Sheldon-Pielert, the Pielert standing for Fred Pielert, the manager of the band with his wife, Gail Ostrow.
The ARP stamp in the deadwax indicates the American Record Pressing Co. in Owosso, MI, pressing number 1316.
I've seen promo and stock copies of this 45, and all seem to have stickers listing the band as the Smoke. Mark Sheldon's name is underneath.
There's not much info on the Smoke out there (or the Mussies for that matter). I gleaned a little from the Grand Rapids Rocks site.