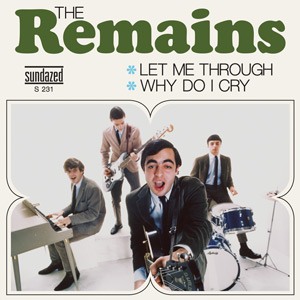 The Remains – 'Let Me Through' b/w 'Why Do I Cry'
(2011 Sundazed S-231)
Review by Rebecca Jansen
"The new single by The Remains," now doesn't that alone sound good? Fortunately this vinyl debut of an original Barry Tashian and Vern Miller composition does sound very good indeed! Performed live on Ed Sullivan's CBS television studio stage, Sunday December 26th, 1965, Barry's snarling Guild lead guitar is in good form as the group soars (and sometimes stumbles, true) through some Psychotic Reactions style tempo changes. Very fearless on a national show with a song only cooked up a couple weeks before! Topo Gigio was probably forced into hiding while this punky racket was flowering, not that the sound quality is at all lacking with the minor exception of some audience applause at the start and again at the conclusion.
Sundazed's sleeve is based on a vintage picture sleeve used by Epic, same design but different shot from the same photo shoot, and it's that attention to detail that keeps Sundazed high in afficianados' regard. The flip is a version of "Why Do I Cry" from the essential Session With the Remains LP also available through Sundazed. This single is more fun than Senior Wences' plate-spinner eating goats; I predict it'll be really beeg with all the kiddies in the garage!
This 45 is available through Sundazed.
Rebecca Jansen's writing and artwork can be seen at Hippies stole my blog! *.
Garage Hangover accepts recently-released LPs, CDs, books and DVDs for review. Please contact us for a mailing address.