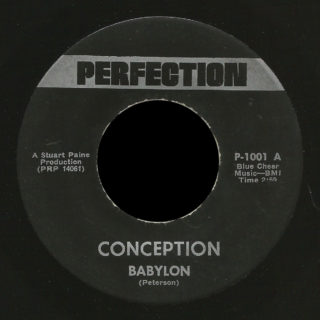 The Conception came from Louisville, Kentucky, releasing only one single circa 1969 when the band were in their teens.
"Babylon" is an excellent cover of the Blue Cheer song from Outsideinside, featuring a heavily phased guitar break. "The Game" is an original by lead guitarist Charlie Day: a very different sound featuring acoustic guitar and harmonies.
Charlie Day listed the band members in a comment on youtube:
Bill Tullis – rhythm guitar and low harmony vocals
Charlie Day – lead guitar and high harmony vocals
Mark Zurlage – bass
Jim Dant – drums
Mike Siebold was also in the group at some point.
Stuart Paine produced the single and also played Fender Rhodes on "The Game". Paine released it on Perfection P-1001, and published "The Game" through Stuart Paine Music BMI.
Paine also co-produced the Waters "Mother Samwell" with Fred Baker as "A Paine-Baker Production".
Anyone have a photo of the group?