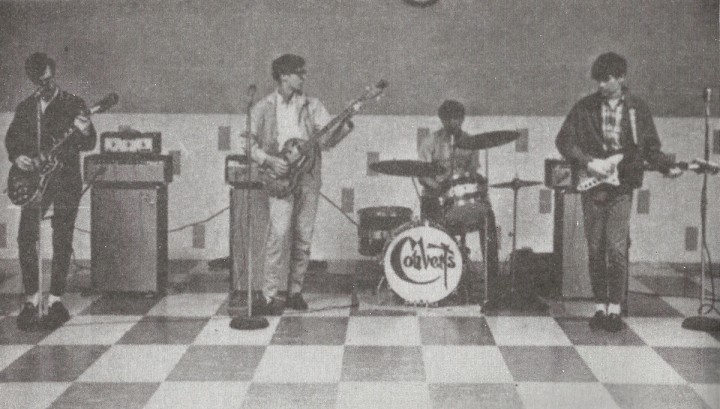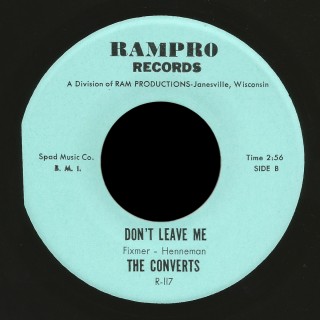 The Converts were seminary students, I believe at the Holy Name Seminary in Madison, Wisconsin, though two sources (Lost and Found & Teen Beat Mayhem) give Beloit, Wisconsin as their base. Beloit is a town of 35,000 just across the Illinois state line, just south of Janesville where Ken Adamany ran the Rampro and Feature labels, and an hour southeast of Madison.
According to Gary E. Myers' On That Wisconsin Beat, the band consisted of Bob Henneman (lead guitar); Duane Millard (guitar, keyboard and bass); Charles Millard (bass and guitar), replaced by Terry Johnson (bass); and Robert Fixmer on drums. Gary writes "None of the converts joined the ministry"!
In early 1967 the band released their only 45, the ballad "A Guy Without a Girl". Listeners these days prefer the b-side, the excellent "Don't Leave Me". Hear it on Teenage Shutdown Vol. 15, She's a Pest. The singer tries to convince his girl not to go by saying she's "not so hot", and threatening she'll never "get another man" or "hold another hand". Both songs were written by Fixmer & Hanneman for Spad Music, BMI.
Rob Fixmer played percussion with Jim Spencer for his albums previous to the Major Arcana LP, Landscape (1973, on Thoth) and 2nd Look (1974, on Akashic). Fixmer became a journalist whose credits include publishing an interesting interview with Frank Zappa in Milwaukee's alternative newspaper, the Bugle American.
Terry Johnson was in the Southbound Band, who released an LP in 1985.