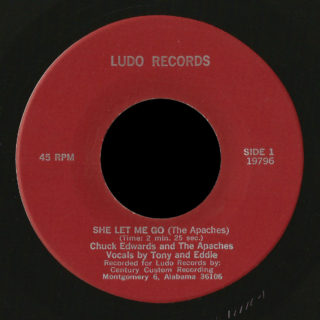 Here's an obscure Century Custom pressing by Chuck Edwards and the Apaches with a mix of garage and earlier rock styles that I like. "She Let Me Go" has gravelly vocals (credited to Tony and Eddie) over a great band that features good drum fills, a deep bass line and nice guitar work, plus a saxophone to tie it to the old styles.
The flip, "Lonely Apache" (written by Tony III) is a good, low-key instrumental. I don't know any names other than what's on the labels.
Released on Ludo Records 19796, I'm not sure of the date. The labels read "Recorded for Ludo Records by Century Custom Recording, Montgomery 6, Alabama 36106".
Chuck Edwards wrote and produced "Dance Little Girl, Dance"- I believe he's singing on it too – released as the Reactions on Ludo 001 b/w "Daddy's Home" which I haven't heard. I presume the Reactions single predates "She Let Me Go" by a year or so.