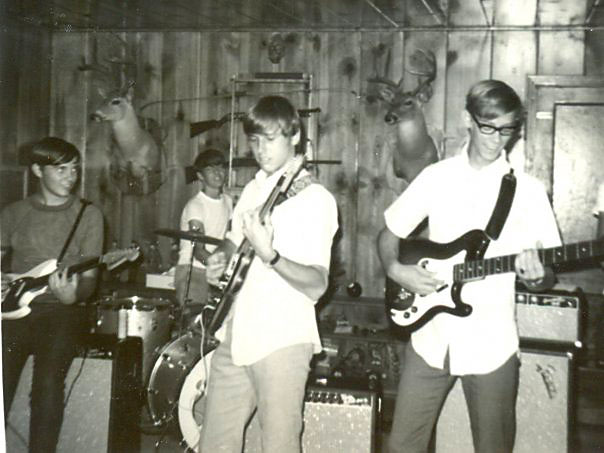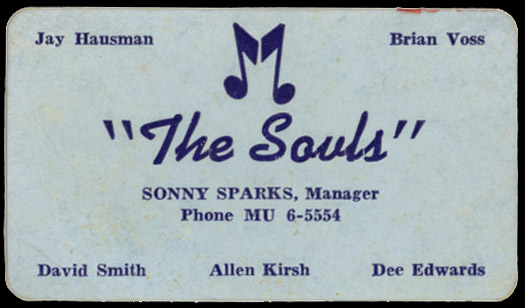 David C. Lott wrote this history of his band the Souls, known for their 45 on the Pharaoh label as Christopher & the Souls. David also contributed all the photos and newspaper scans included in this article.
Music has a strange way sometimes of transcending time and boundaries. It can seemingly take on a life of its own.
Such is the case of a young garage band from McAllen, Texas during the swingin' mid-sixties. Nestled about as far down in south Texas as one can get — down in the Rio Grande Valley, right above the Mexican border – was a teen scene that produced some great rockin' groups like The Headstones, The Cavaliers, The Playboys of Edinburgh and Arturo & Pat and The Invaders.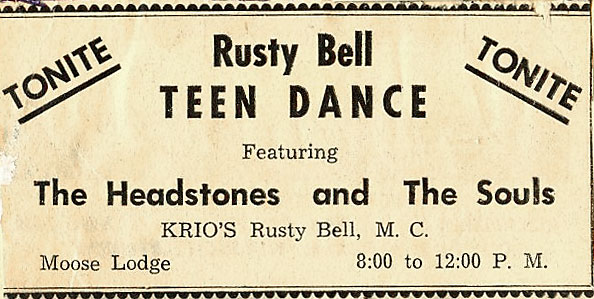 In Andrew Brown's "Brown Paper Sack – Music & Commentary No.1", from the mid-90's, he states "but not one of 'em can match the intense dementia of Christopher and the Souls' "Diamonds, Rats, and Gum", which is not only the wildest records ever made in the Texas Valley, but also very likely the ultimate antithesis of every sorry-ass love ballad that's ever dribbled down the proverbial pike."
A single copy of the 45 recently sold on e-bay for a whopping $1225.
The story of The Souls really begins back in late 1964 when Jay Hausman, a young student at McAllen High School, and classmate David Smith began a collaborative effort. Jay was teaching David new bar chords and David showing him some of the well-known guitar licks of the day (ie: surf music & early Beatles and Stones). David was only a year older than Jay, but had been playing the guitar for several years and was acknowledged as one of the more talented guitar players in town. Jay eventually began feeling confident enough as a guitarist to start making his way onto the local music scene. Jay met Allen Kirsh, who didn't play an instrument but could sing a pretty good tune and perhaps maybe a little better most. After hearing Allen a couple of times, Jay began visualizing a rock 'n' roll band.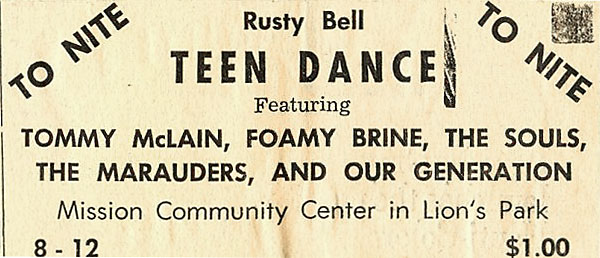 Brian Voss, another one of Jay's high school chums and his neighbor could play the bass and had a great voice, and Dee Edwards, a senior at McAllen High had a decent set of drums. Jay enlisted David Smith, his mentor, to join the band as lead guitarist. After a couple of months of practice during the early spring of 1965, the quintet had it down well enough to be thought of as a band. Somebody, nobody remembers quite who, christened the band as The Souls. The name "Souls" was probably a take-off on "Rubber Soul" by the Beatles.
The line-up lasted about six months. Brian Voss left the band for personal reasons. Dee Edwards graduated from high school that year and moved on. Jay, Allen, and David Smith stuck together and in late 1965 added two more classmates at McAllen High – Jerry Ebensberger on bass and David Lott on drums.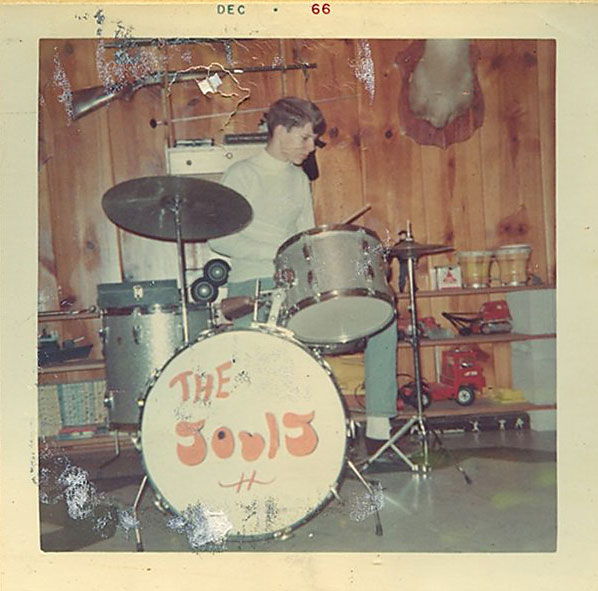 Lott and Ebensberger had been playing for a few months in a little trio along with a young eight grade guitar "prodigy-to-be" Mitch Watkins in a band they called "The Madhatters." David Lott recalls Mitch having a $35 Silvertone guitar that had its amplifier in the guitar case – but that the guy was amazing. He could pick up most any musical instrument from piano to saxophone and within minutes have it almost mastered. (note: Mitch Watkins, now based in Austin, is still one the finest guitar players in the country www.mitchwatkins.com). The revamped Souls by the spring of '66 were gigging frequently at church dances, private parties, the Hide-A-Way Club in Harlingen, the National Guard Armory in McAllen, the Moose Lodge and Valley Bowl & Skating Rink in Mission.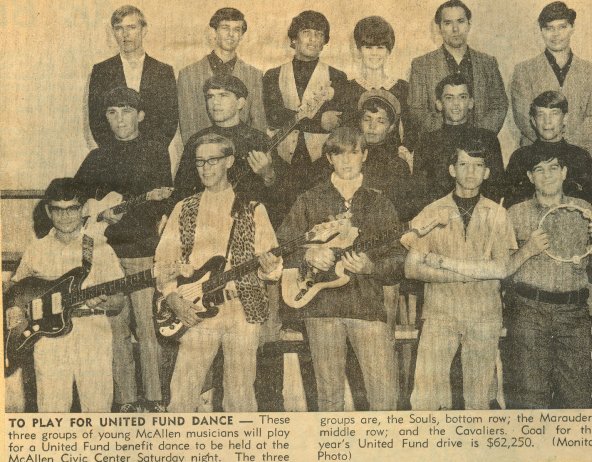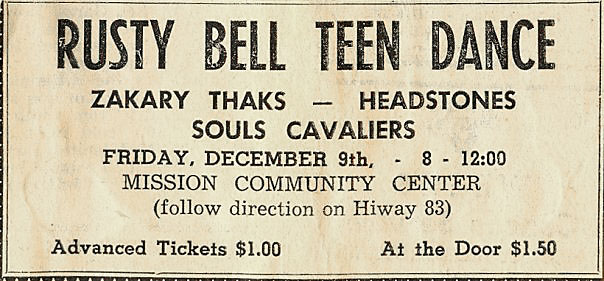 There were several "ages" of bands in the McAllen area music scene hierarchy. At the top end of the spectrum were the Playboys of Edinburg, who recorded several quality tunes, and a great little group who never recorded called The Invaders. Then the next level would've been The Headstones, and The Cavaliers – guys in their late teens or early twenties. And then the next age group down would've been The Souls, and a band called the Marauders. All ages 14, 15 and 16 years old.
Even though The Souls were like most of the other garage bands of the day – doin' cover tunes – they felt like they were on the cutting edge of something. They just didn't know exactly what – but they knew there was something special in the air with the music of '65 and '66. One has to remember, this was less than two years after the Beatles had hit America and the British Invasion lit a fire storm of musical creativity with the youth. Everything they did and tried was new and hadn't been done before. The music of the mid-60's was taking on a life of its own.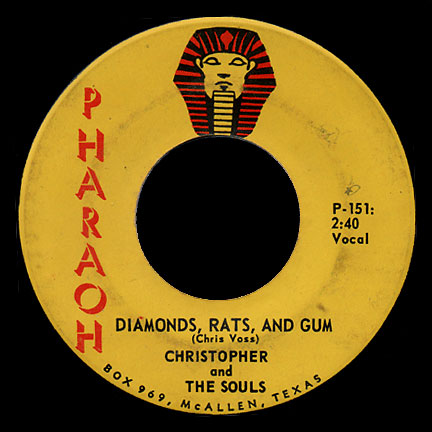 About the time the band was starting to take off – Jay Hausman's family moved to Nashville, and unfortunately Jay had to go with them. It was hard for the fellas in the band to say "adios" to the guy who'd been the band's main motivator. However, they soon found a good substitute for Jay in a very talented young kid named Murray Schlesinger, who had been playing rhythm guitar for the Marauders.
About the same time Murray came into the fold, a guy named Chris Voss felt the sudden inspiration to have a couple of song-poems he'd written set to music and committed to vinyl. His younger brother Brian had been the band's first bass player.
The two song-poems Chris had penned were titled "Diamonds, Rats, and Gum" and "Broken Hearted Lady". He took them to David Smith and played the basic songs for him on acoustic guitar. David added the fuzztone riffs to "Diamonds, Rats, and Gum", in the style of George Harrison's "Think For Yourself" (from Rubber Soul). You can hear some similarities in the downward fuzz-bass progression playing between the verse & chorus. A few days later, David and Chris brought the songs to the band's practice session at Allen's house. Chris proposed that the band learn the songs and that they cut a record.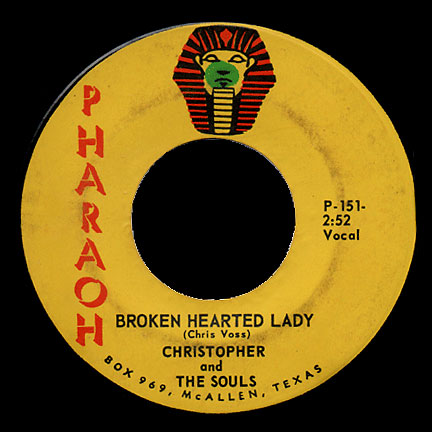 So, the band listened intently as Voss read his lyrics and David tried to get a handle on a melody. After a few hours, the basis of the song started to come together. Each young musician developing their role. A few weeks went by with the band honing and refining the songs in practice sessions until they felt they had it down and was as they all envisioned it.
The Souls showed up at the now legendary Jimmy Nicholls' Pharaoh Studio one night in September of 1966. Nicholls' studio had a quarter-inch tape, Ampex machine straight to two-track — mind you — live to two track, no overdubbing.
The band cut the two songs in less than two hours. Allen, the Souls' regular lead singer, was not singing on the record, but was present for the session and moral support. He later said "If it hadn't of been for Chris Voss, the Souls would've never recorded."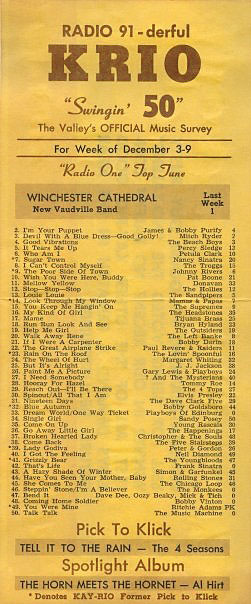 Andrew Brown in his "Brown Paper Sack – Music & Commentary No.1" said "Written, sung, and played in a style aggressively defiant to easily digestible pop music clichés, 'Diamonds, Rats, and Gum' is one of the most savage parodies of Top 40 idealism ever made, and while it certainly wasn't intended to be that, just what the song was intended to be remains a mystery to all involved!" By contrast, the "Broken Hearted Lady" flip side is a serious take done as slow sappy ballad.
"Diamonds, Rats, and Gum" is bizarre and fantastic with lines like "I'll give you rats and five pieces of gum and then you'll know I'm not a bum", whimpered over a grinding slurry of fiercely demented fuzz guitar, bass and drums.
Brown goes on to say "Chris Voss' neurotic nursery rhyme about giving the object of his affections disease-ridden rodents and a prescribed amount of chewing gum as proof of his undying love, is sung in a slurred whine above the staggeringly PRIMAL accompaniment of four teenage punks only slightly taller than their guitars. It is the loudest, greatest insult to the stomach-churning moanings of 'lite rock' pigs like Elton and Phil (and their countless bastard offspring choking up the airwaves) ever recorded."
He continues with "And for this, my friends, we owe the Souls nothing less than our eternal, everlasting gratitude."
The record was released in a limited custom pressing the following month as a 45 under the Pharaoh label. "Diamonds, Rats, and Gum" as it turns out some 40+ years later is one of the rarest of the rare on a very rare label.
Oddly enough "Diamonds, Rats, and Gum" had been the song the band had intended to promote. However, local KIRO deejay Rusty Bell wanted to push the ballad "Broken Hearted Lady", and it got a lot of local airplay due to Bell's friendship with the band.
Sales allowed the record to enter on KRIO's "Swingin' 50" at #48 the first week it was out in late November '66. It then climbed to #37, #35 then #32 by December 16th, 1966. The song ended up at #23 sometime in January 1967. Nobody in the band remembers now-a-days if the song climbed the charts a bit more or if it fell. None-the-less, the song had made the charts.
A few examples of other hits on the charts during those weeks were "Winchester Cathedral" by New Vaudeville Band at #1, "Devil With A Blue Dress" by Mitch Ryder, "96 Tears" by Question Mark and The Mysterians, " Come on Up" by The Young Rascals, "Steppin' Stone" by The Monkees, "Mellow Yellow" by Donovan, and "Have You Seen Your Mother Baby" by the Rolling Stones.
Chris Voss made an appearance with the Souls at an Edinburg High School pep rally shortly afterward … and wasn't heard on stage again. Chris ended up going to college and becoming a successful businessman in McAllen.
KIRO deejay Rusty Bell continued to promote the band through his Teen Dances at the Mission Community Center in Mission, Texas. The Souls appeared frequently on the billing with The Headstones, The Cavaliers, The Playboys of Edinburgh, The Zachary Thaks from Corpus Christi and others and often served as "opening act" for notable groups routed through the area. Such groups were The Classics IV from Florida (with their hit "Spooky), The Five Americans from Dallas (with their hit "Western Union"), Tommy McClain from Louisiana (with his hit "Sweet Dreams of You") and others.
Early in 1967, Jay Hausman moved back to McAllen and back to The Souls. Murray obliged by leaving and rejoining the Marauders. Unfortunately, Jay's presence wasn't enough to keep the band as enthused as they were the year before. The "psychedelic" music trend was in full bloom and the band just couldn't get enthused. After one last show, opening for the Five Americans and the Cavaliers at the Mission Community Center, the Souls came to a quiet halt. There would be no revivals, no reunions.
Andrew Brown states: "yet the music they'd managed to preserve on vinyl will echo on far longer than they'd ever expected it to, or even wanted it to."
In September of 2008, a single copy of Christopher and The Souls 45 that featured "Diamonds, Rats, and Gum" and "Broken Hearted Lady" (Pharaoh P-151) listed on the site as "a Texas Garage Band killer" sold on e-bay for a whopping $1225. Only a few copies of the record are known to exist. However, David Lott states that he still has a copy in excellent condition and so does David Smith.
As stated earlier – music "can sometimes seemingly take on a life of its own."
The line-up and where are they now: (2009)
• David Smith – lead guitarist 1965 – 1967, is a software programmer living in Austin, Texas. He frequently plays guitar in a band called "33 1/3".
• Murray Schlesinger – guitarist 1966 has an insurance agency in McAllen, Texas and frequently plays guitar in a band called "The Retrorockers" (www.retrorockers.com )
• Allen Kirsch – singer 1965 – 1967 owns Music Makers in Austin, Texas serving Texas musicians since 1988 (www.musicmakersaustin.com)
• David Lott – drummer 1965 – 1967 resides in Medicine Park, Oklahoma and is a freelance graphic designer, website developer, publisher, entrepreneur and concert promoter (www.lawtonka.com) and occasionally sits in during local jam sessions.
• Jerry Ebensberger – bass 1965 – 1967. Jerry owned/managed a newspaper in Mansfield, Texas for many years, and then a restaurant in Victoria, Texas. He and his wife (high school sweetheart) Beverly reside again McAllen, Texas
• Jay Hausman resides somewhere in Los Angeles, CA
• Chris Voss resides in Mission, Texas and is a pastor of Central Christian Church, in McAllen, Texas.
• Slaiman "Chunky" Showery, (equipment and road manager for Souls) resides in McAllen and was a successful car/home stereo entrepreneur in 70's, 80's 90's. Now takes life easy. Works at Rio Radio, a historical audio and radio store in South Texas, the first to sell car stereos in the Valley.
– 2009, David C. Lott – dlott@lawtonka.com
with excerpts from Andrew Brown's "Brown Paper Sack – Music & Commentary No.1"