This is a bizarre pop-psychedelic gem of a 45 by Chris Carpenter of Detroit, Michigan.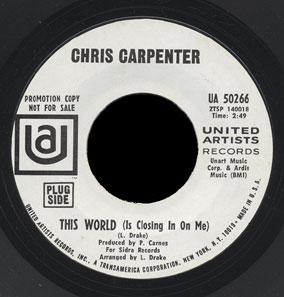 "This World (Is Closing In on Me) (written by L. Drake) is full of paranoid lyrics. "Waterfalls" (songwriting credits by Parsons, Toma, and Carnes) features a harmonium, thunder sound effects, rattles and yet more obsessive lyrics. Both sides were produced by P. Carnes for Sidra Records, and arranged by L. Drake. Not sure if this is the same Chris Carpenter now involved in sound mixing for Hollywood.
This was originally released on Ocean-Side, a subsidiary of the Sidra label of Detroit in October 1966, then on Sidra itself a month later, and then picked up for national release by United Artists in February 1968, over a year after the original release.
Someone named Jim wrote to me to say that this 45 exists without the sound effects, dampening the impact. Same label, but it's less common than the 45s with these tricked-out versions.
To make matters more confusing, both sides were remixed with heavy fuzz guitar overdubs and released under the artist name 'Preston' on yellow vinyl on the Sound Patterns label in 1969.
Anyone have a photo of the man?