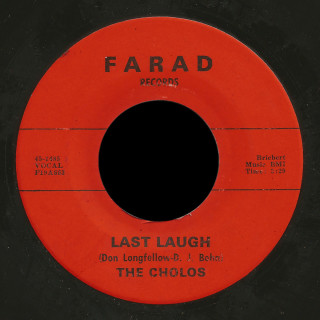 The Cholos put out their classic "Last Laugh" on the Farad label in May, 1966. The band was from Fort Leonard Wood, Missouri, a rural area along I-44 between Springfield and St. Louis, MO.
Don Longfellow and D.J. Bohn wrote "Last Laugh" for Briebert Music, BMI, while Pete Starr and D.J. Bohn wrote the instrumental, "Whistling Surfer".
I haven't been able to find any other info about the band or a photo of the group. Their band name is a strange one, even for the '60s. Their label name is also unusual and I can't connect it to any other release.
This was considered a very rare 45 until at least 20 unplayed copies turned up in late 2014.