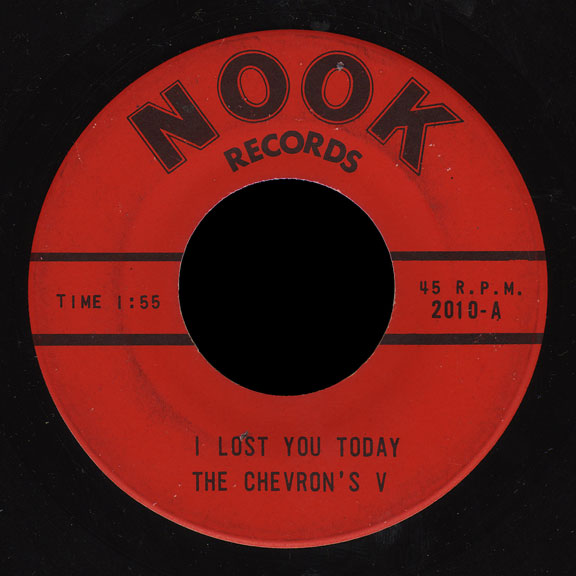 The Chevrons V came from Grand Rapids, Michigan.
Their first 45 from January 1966 has a sharp bluesy lament, "I Lost You Today" on one side and the nonsensical chant "Niat Pac Lavram" (read it backwards) on the flip. Total time for both songs clocks in at a succinct 3:40! Bands today should consider that approach to recording.
It was considered a rare 45 until 2008 when fourteen or more copies turned up. No song writing or production credits on the label, but the same band released a later 45 as simply 'The Chevrons' on Fenton, "Hey Little Teaser" / "What Everyone Wants". There's also another single on the Dawn label, "Seeing You" (B. Goote, pub. by Nigel Music) / "My Mind's Made Up", produced by Goote and J. Williams, product of Midwestern Sound Productions, engineer Denny Cuson, "label by John Stevens".
Patrick Strong wrote to me that he played guitar on "What Everyone Wants". I'm not sure if he was in the group for the first 45.
I knew almost nothing about the band until Bob Goote commented below that I'll repeat here: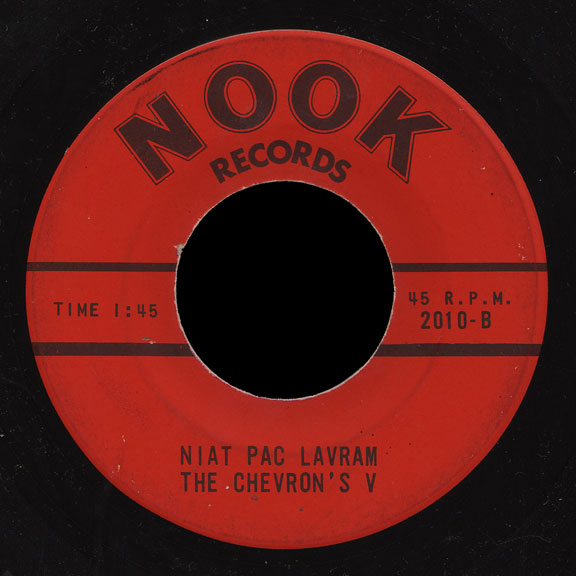 I was a founding member of the Chevrons. The members of the band were:

Bob Goote (keyboards/lead vocals), Pat Strong (lead guitar), Bob Vandenberg (guitar/vocals), Steve Vanderark (bass/vocals), and the great Jerry Vanderwal on drums.

I wrote "I Lost You Today". "Niat Pac Lvram" (Captain Marvel spelled in reverse) was a collaboration with the whole band, I wrote the music. I also wrote the songs "What Everyone Wants", "Hey Little Teaser", "Seeing You", and "My Mind's Made Up".

Our record "Hey Little Teaser" / "What Everyone Wants" made it to #5 on the radio music charts in Grand Rapids.

We had a great time playing gigs while in High school at East Christian High in Grand Grand Rapids (65-68). After high school in 1968 we all sort of went are own ways and the band broke up. After the group retired I wrote and recorded a song called "Somewhere (Someone Is Waiting)" on the Coventry label. It also got some air play in the Grand Rapids market.

Bob Goote
Anyone have a photo of the band?