With a name like Chaos Incorporated, you'd expect sinister psychedelic sounds, but instead what we have here are two exploitative r&b tracks.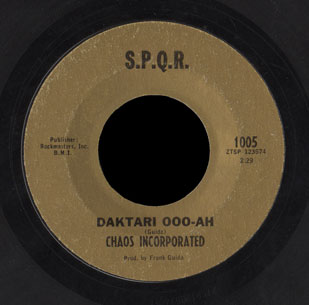 "Daktari Ooo-Ah" is in the tradition of Kip Tyler's "Jungle Hop" and other jungle and monkey records. On the flip is "Spanish Cooking", a take off on another genre: soul food records.
"Spanish Cooking" was writen by Frank Guida and Gary Anderson aka Gary "U.S." Bonds. The way the band plays, it sounds like it could be a throwaway from one of Bonds' sessions.
Guida was the man behind the S.P.Q.R. and LeGrand labels. He recorded some fantastic music by the Swinging Machine and Lenis Guess around this time that I recommend over this one. Frank Guida passed away on May 19 of 2007, just a week shy of his 85th birthday.Thank you to Marty for the 45.