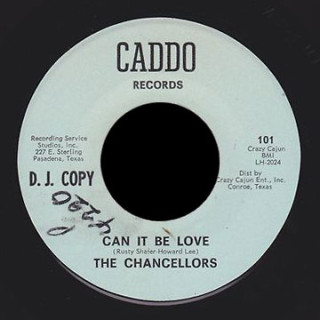 The Chancellors came from Oil City, Louisiana, about 30 miles from Shreveport along Caddo Lake.
Members of the band were:
John "Rusty" Shafer – guitar
Howard Lee – guitar
Mike Dunahoo – bass
Tommy Valliera – drums
According to the liner notes of Big Beat release Don't Be Bad, Rusty Shafer and Howard Lee were part of a folk quartet called the New River Four at Northwestern State University in Natchitoches, Louisiana. Lee and Shafer found a rhythm section in Mike Dunahoo and Tommy Valliera, and renamed the group the Chancellors.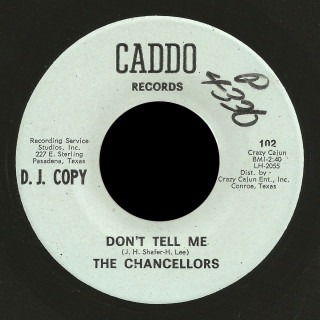 They drove over four hours to cut two 45s at Recording Service Studios, Inc., 227 E. Sterling, Pasadena, releasing them on the Caddo label in 1965. The first was
"It's Too Late" / "Can It Be Love" (Caddo 101, LH-2023/4), followed by "Don't Tell Me" / "I Don't Know Where I'm Going" in November, 1965, (Caddo 102, LH-2055/6).
"Don't Tell Me" is available on the CDDon't Be Bad, 60s Punk Recorded in Texas. I like "It's Too Late" from the first single: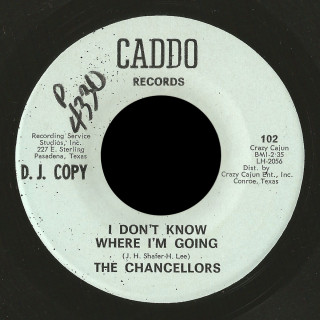 All songs were originals by Rusty Shafer and Howard Lee, published by Crazy Cajun BMI. Shafer and Lee registered five more songs with the Library of Congress that year, including "Gone Away, Lost in Sorrow", "Impossible Dream", "The Love We Share", "Never, Never Say You Love Me", "Tired of Laughing". I don't know if they recorded any of those songs.