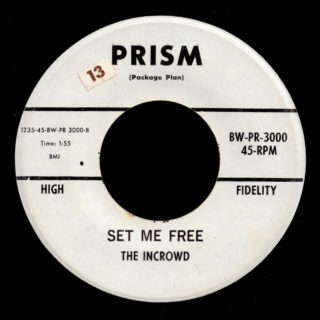 The Incrowd came from Hillsboro, Ohio, close to 60 miles east of Cincinnati. Members were:
Larry Zuggs – vocals
Randy Applegate – guitar
Paul "Bud" Long – guitar
Charles Murphy – organ
Mike Waddell – bass
Jay Cooper – drums
Circa 1965 they traveled to Dayton's Mega-City Studio to record their only single, featuring an overwrought soul ballad "Keep It" on the A-side. Most listeners now prefer the frantic and distorted "Set Me Free" on the flip. Both songs were supposedly written at the recording session!
Instead of release on Mega-City's in-house Pixie label, or on the standard Prism label, they were given the plain b&w Prism package plan for their pressing of 500 copies. Other bands on this 3000 custom series included the Senators and the Warbucks.
Anyone have a photo of the band?
Info from Buckeye Beat.