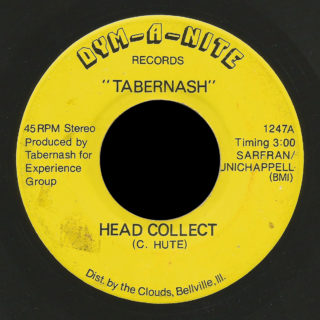 The Contents Are continued until around 1972, when they changed their name to Tabernash and moved from Davenport, Iowa to Westminster, Colorado, just northwest of Denver. Prior to their move, they made this one single on Dym-a-Nite, the only release they would have under the Tabernash name.
The members of Tabernash were Craig Hute, Dave Neumann, Paul Staack and Mick Orton.
"Head Collect" is an excellent rocker written by Craig Hute. The song dates back to 1969, when a demo was recorded at Columbia studios in Chicago. The single is 44 seconds shorter, quicker in tempo, with a drier sound than the Columbia studio demo, but both are excellent performances.
"Out of the Cold" is another original by Craig Hute, again dating back a couple years, this time to a demo session at Golden Voice Recording Studio in Pekin, Illinois from 1969 or 1970. The Dym-a-Nite 45 is more sparse and plain in production than the Golden Voice demo, and is also 90 seconds shorter. Songs from that session will be released by Alona's Dream Records in 2017.
The deadwax contains a "tulip" marking that indicates Wakefield in Arizona pressed the single, with a five digit code dating it to February 1972. Both sides have publishing by Sarfran / Unichappel BMI, and "Produced by Tabernash for Experience Group" and "Dist. by the Clouds, Bellville, Ill".
When I sent scans and audio of the Dym-a-Nite single to Mick Orton, he didn't recall it. After speaking to Craig Hute, he reported back that one of their managers, Spence Stein owned the Dym-a-Nite label and worked with someone at Unichappel to release the single. The band didn't hear it until they had made the move to Westminster, but they disliked the quality of the pressing.
Mick Orton has posted photos and info about Tabernash and the later Contents Are on his extensive website. I highly recommend checking it out.
Thank you to Mike Markesich for the Wakefield pressing info.