Bobby Simms was born Robert Siemiaskzo. While still in high school in 1961 he joined the Mus-Twangs as lead vocalist. The Mus-Twangs were based out of Harvey, Illinois, about 20 miles south of central Chicago and just west of Hammond, Indiana. The Mus-Twangs had two instrumental singles on Smash, including the very first single ever released by that label, "Marie" / "Roch Lomond".
Simms left the Mustangs in 1962 and started the Bobby Simms Trio with Mus-Twangs bassist Keith Anderson, recording a good Mersey-influenced single in 1964 on New Breed "And Your Mine" / "Do Things Right" featuring the drumming and harmonica of Verne Johnson (later of Illinois Speed Press).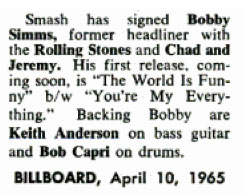 In 1965 Simms had his own single on Smash, "The World Is Funny" / "You're My Everything" which I haven't heard yet.
The following year he released a 45 as Bobby Simms and the Simmers, featuring two of his original songs, the raucous "Big Mama" backed with a much gentler harmony sound in "Please Please Believe".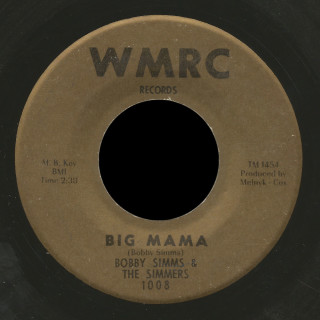 This seems to be the only release on WM & RC Records, though there were two different labels, one featuring a key and distribution by Summit. WM standing for Walter Melnyk, the manager of Simms and owner of the M.B. Club in the Burnside neighborhood of Chicago. The "C" in RC stands for Cox, co-producer of the sinle with Melnyk. Publishing was by M.B. Key BMI.
Musicians on the Simmers single included Keith Anderson and Verne Johnson from the Trio, plus guitarist Paul Cotton from the Mus-Twangs.
In 1967 Simms became one of the founding members of the Rotary Connection. Keith Anderson and Paul Cotton formed the Rovin' Kind, which evolved into Illinois Speed Press.
I'm sorry to report that while researching this post I saw a comment from Keith Anderson that Bobby Simms passed away on May 29, 2015.
Information for this post came from Paul Cotton's excellent site, especially this page on Bobby Simms.