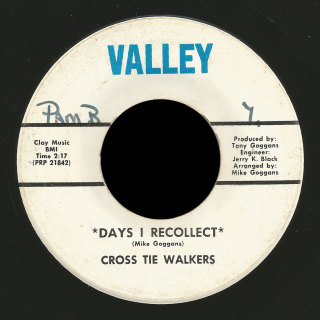 Can't find much about this group who did this one 45 in 1970. The Cross Tie Walkers included brothers Tony Goggans and Mike Goggans. From a signed copy I saw online, other members includes Patrick Stephens and Roger McDaniels (not sure I have Roger's surname correct).
I've read Valley was an Alabama label, and apparently the Goggans came from Fort Payne, Alabama but Vance Pollack tells me they were often billed as "the Malabous Ron, aka Malibus / Malibous, etc. of Fayetteville" in North Carolina.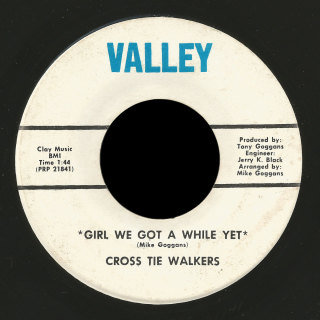 "Days I Recollect" is the standout, sounding much like Creedence, but with something original to it. Mike Goggans wrote both that and the flip, "Girl We Got a While Yet", for Clay Music BMI.
Tony Goggans produced the 45, engineered by Jerry K. Black and arranged by Michael Goggans. The PRP 21841/PRP 21842 code indicates Precision Record Press in Nashville.
Any additional information about the group would be appreciated. Anyone have a photo of the group?