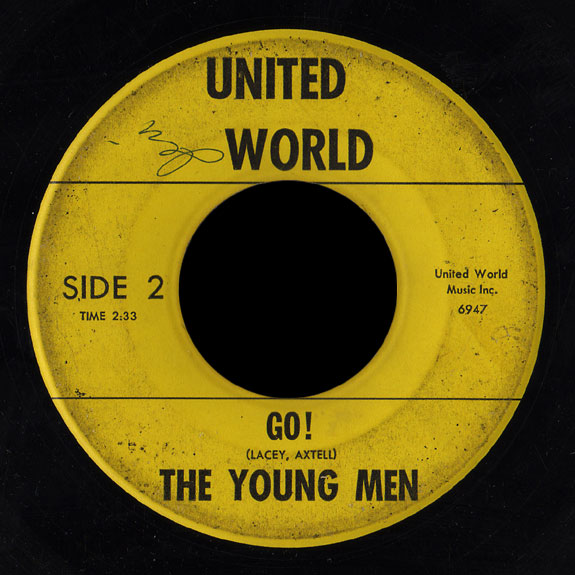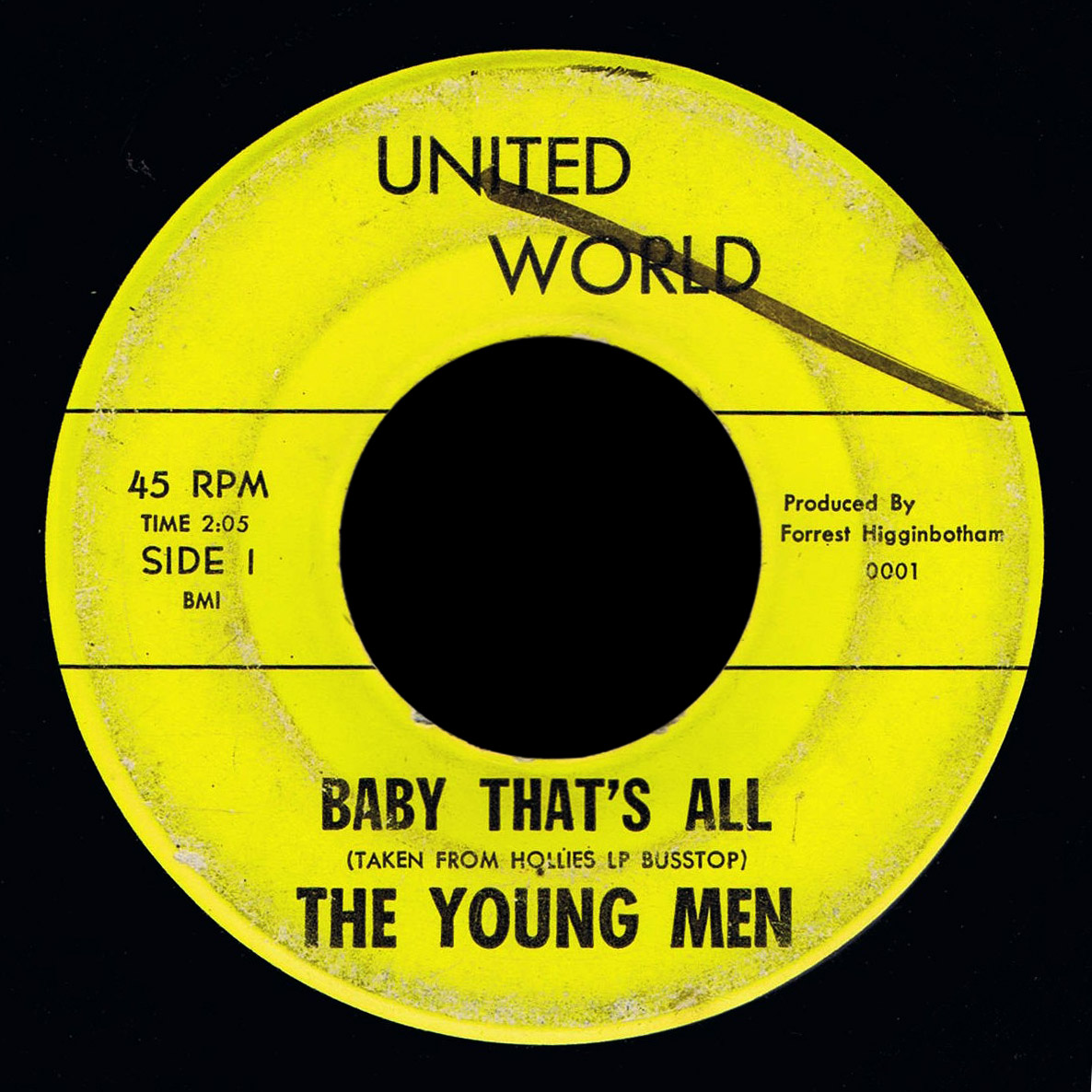 Updated February 2011
I can now confirm that the Young Men were from Phoenix, Arizona. Members included Frank Lacey, Pete Axtell, Dave Killingsworth, Richard Adams (who replaced the Metronomes original guitarist) and Tony Boynton.
They were originally called the Metronomes and most were students at West Phoenix High School, playing the prom there in 1966. A friend of the band remembered Frank Lacey being one of the first students at their high school to be sent home for having long hair.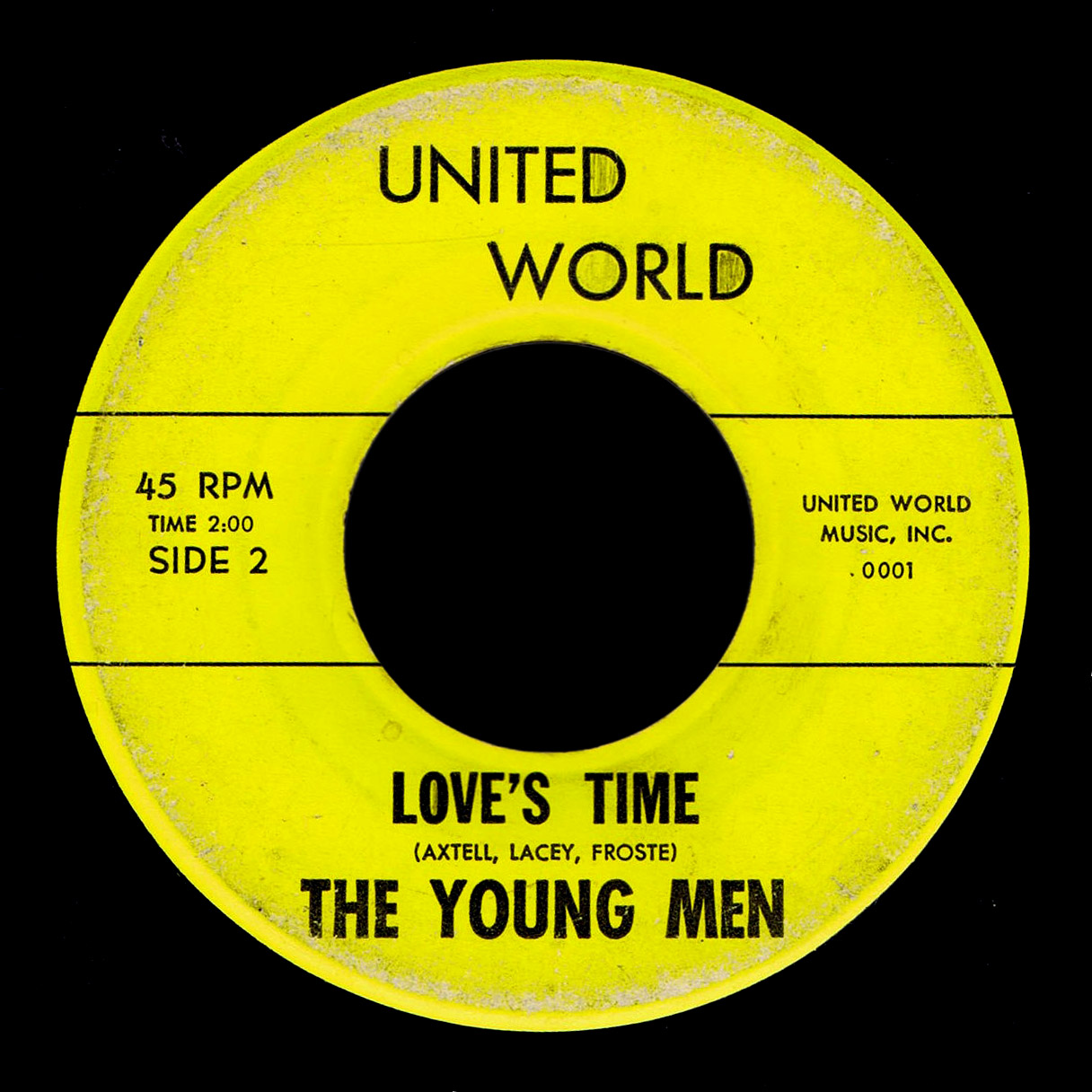 Their first 45, released on United World #6947 in January '67 has a minor pop song "Too Many Times" on the A-side, written by 'Howie' and produced by Forest Higginbotham. It charted on KRUX 1360 AM, reaching #16 on March 16.
Much cooler is the catchy, upbeat "Go!". The song writing credits list Axtell and Lacey, but as Mop Top Mike pointed out to me, it's really a very close version of the Dave Clark Five's "I'm Thinking", the b-side of a '65 single "Reelin' and Rockin'". On the DC5 original there's a great shout of "Oh!" before the first verse. The Young Men change this to a reverb-laden "Go!" and dub it in before each verse. They also speed up the tempo, drop the organ part and substitute an excellent dry guitar solo for the bridge in the DC5 original.
The Young Men had a second 45 United World #0001 in April of '67, a very competent rendition of the Hollies' "Baby That's All" backed with "Love's Time", a good original by Axtell, Lacey and Froste.
As Dan Nowicki points out in his comment below, Frank Lacey and Dave Killingsworth later were in Thackeray Rocke, and that both records were recorded at Audio Recorders of Arizona.
Thanks also to Mop Top Mike for the dates of the 45s, to John L. for info on the group, and to Brian Kirschenbaum for the transfers and scans of "Baby That's All" and "Love's Time".
Anyone have a photo of the group?