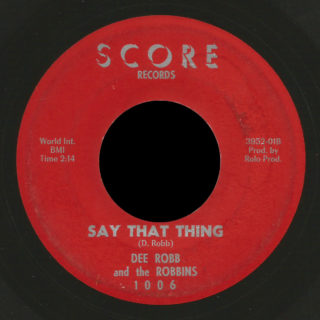 I picked up Dee Robb & the Robbins' "Say That Thing" not realizing this was the Robbs in an earlier incarnation. This 1964 Score single is much different from the sound of their Mercury singles and LP from a couple years later.
Early versions of the group included:
Dee Robb (David Donaldson) – guitar & vocals
Joe Robb (George Donaldson) – saxophone, bass guitar & vocals
Bruce Robb (Robert Donaldson) – keyboards & vocals
Dick Gonia – rhythm guitar
Craig Krampf – drums
They released three singles before their stint with Mercury. First came Dee Robb's "Bye Bye Baby" / "The Prom" on Argo 5439 from 1963. Later that year as Robby and the Robbins they cut "Surfer's Life", a song written by Dee Robb with the group's manager, Con Merten, b/w "She Cried" on Todd 45-1089. "Say That Thing" seems to be from 1964, judging by the Score release number.
"Say That Thing" sounds much like "What'd I Say" and has great lead guitar in Lonnie Mack's style. The flip is a rocked-up version of "He's Got the Whole World in His Hands".
Lenny LaCour's Score label also put out a couple singles by the Texas/Chicago band the Bossmen, plus Oscar Hamod and His Majestics' cool "Come On Willie" / "Top Eliminator."