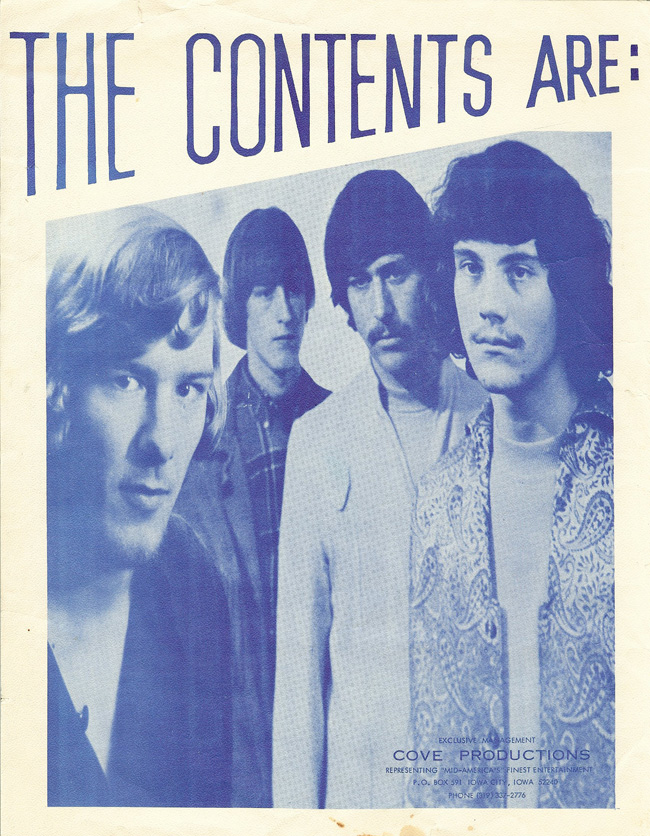 Dave Neumann – lead guitar and vocals
Craig Hute – 2nd lead guitar and vocals
Larry Smith – bass and vocals, replaced by Mick Orton – bass, keyboards, vocals
Paul Staack – drums and vocals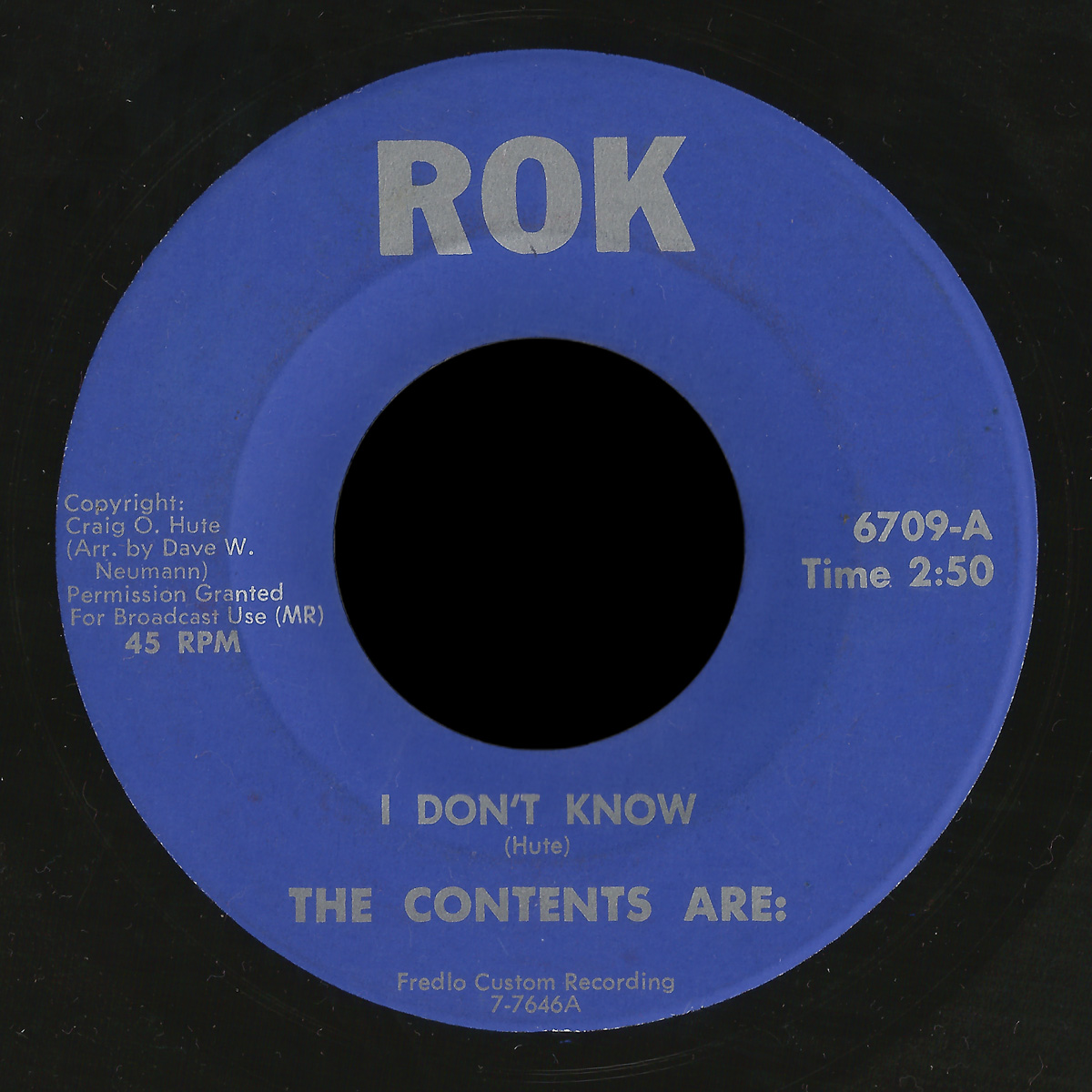 The Contents Are came from the Quad Cities area by Davenport, Iowa. High school students Dave Neumann and Craig Hute were in the Blazers when they decided to form a new group to pursue a more original and harmonic direction. Adding Larry Smith and Paul Staack, they started playing live shows in the area, including Cedar Rapids, IA and Rock Island, Illinois.
In April of 1967 they entered the Fredlo studio in Davenport and recorded "I Don't Know" and "Direction of Mind". Craig Hute wrote both songs, with arrangements by Dave Neumann. The 45 did well locally, selling as many as 1,000 copies, though it's pretty scarce nowadays. It's one of my favorite 45s, I don't think there's anything else quite like this band in the '60s. They have a calm, melancholy sound and their lyrics really stay with me.Once the band was out of high school and mostly attending college, they played shows as far away as Champaign, Illinois and Minneapolis.
Later in 1967 or early '68 they returned to Fredlo to cut an album of originals by Craig Hute. These are just as good as the single, my favorite being "If You're Relaxing". Marianne Dean played piano, oboe and sang on the album.
The band pressed 100 copies and gave them away, and it is now incredibly rare. This record was mostly a rumor until a demo copy surfaced in 2005. Shadoks reissued the album, adding a little color to the line drawing that was the front cover. The original back cover was bland, but the Shadoks release has a photo of the band and and info on who sang or played on each song. There's also an insert with entertaining notes by Craig, but he doesn't mention many details of the recording sessions. He does say Mercury bought the Rok 45 for national release which never came about.
The Contents Are had one last single release, "Future Days" / "New Mexico" on Rok Records 6907, which has the same harmony qualities even though the guitars are heavier.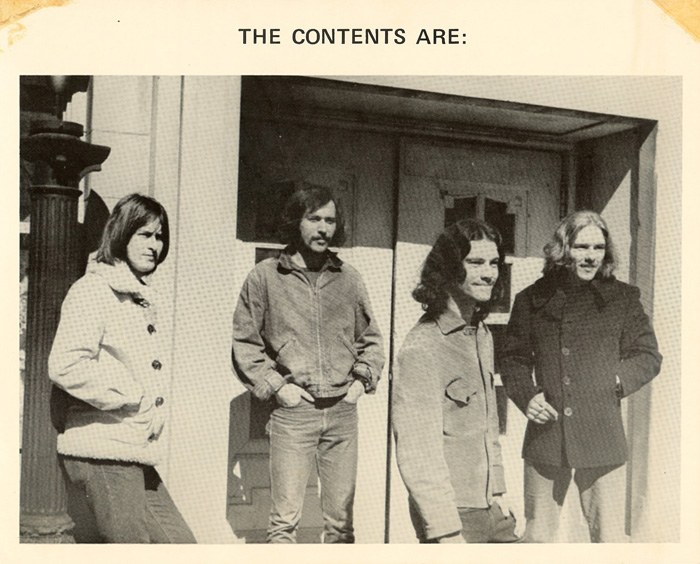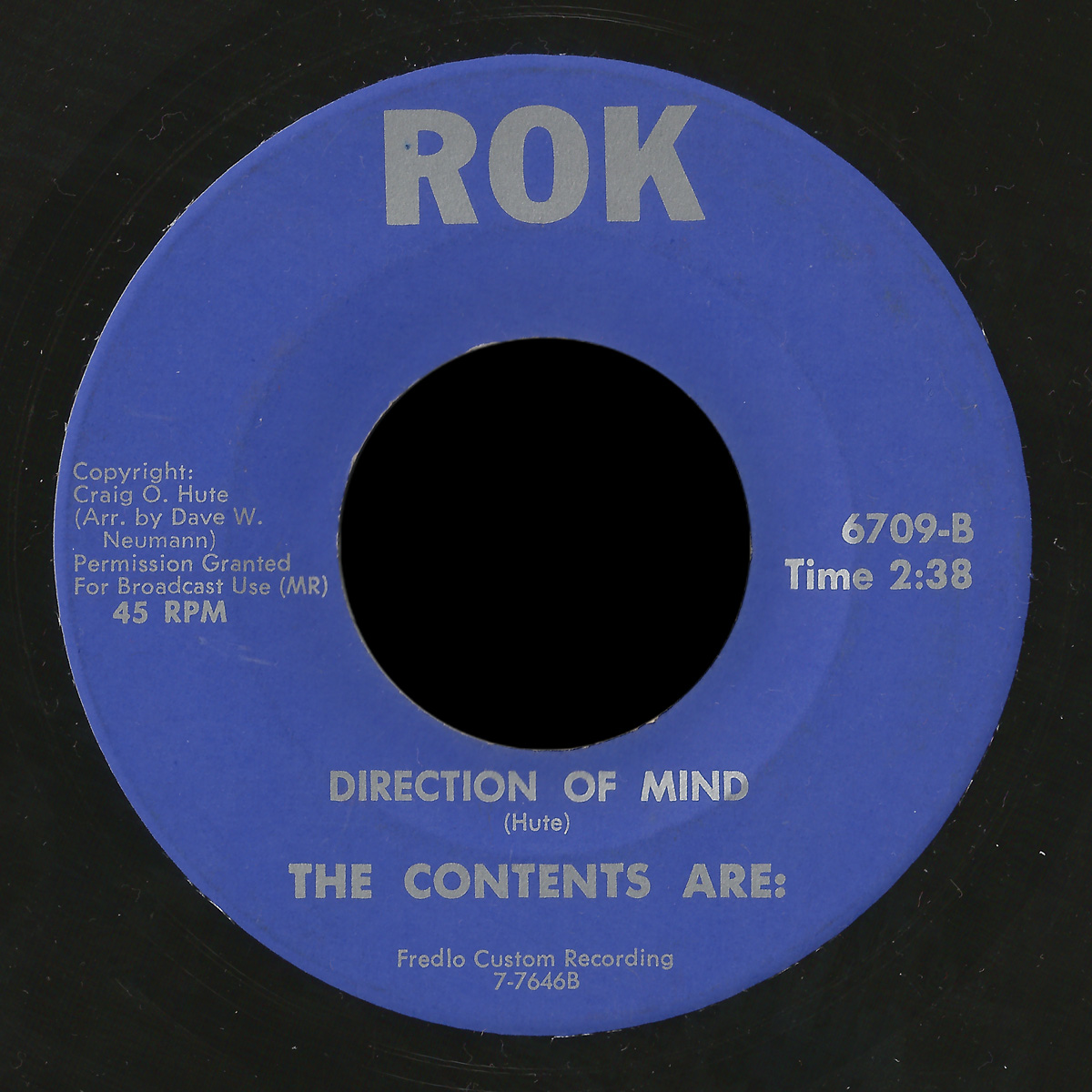 The group stayed together for four years then split amicably as members went in various directions. Larry Smith and the band's road manager Christy Peake moved to Portland, Oregon to work on acoustic guitars. Mike Orton (Mick) of the Todd Beat Group replaced Larry Smith, and in the early '70s the band moved to the Denver and Boulder Colorado area where they changed the band's name to Tabernash.
Their second bassist Mick Orton sent in the later promotional photos seen here and wrote to me about the group:
The CD liner notes made it sound like the band broke up after Larry left which was not the case at all. But I didn't play on that album, so I kind of understand leaving me off.

When I joined The Contents Are: we were basically a cover band doing a few original tunes that Craig wrote. We only did a few of the songs they had previously recorded; "Country Roads", "No Chance to Choose" (which I have live on the tapes I am transferring), "Recurring Changes" (also on the live tape, I think), "I Don't Know" (one of my favorites), and "New Mexico". There may have been others, but they don't come to mind. Anyway, I think Craig wanted to leave the old music behind and focus on the new stuff.

Then we started doing some of mine ("All Around", "Old Man", "Grey, Cloudy Skies" and a few others), and finally some of Dave's.

We put together a bunch of original tunes which we recorded in Appleton, Wisconsin and later we recorded others at Columbia Studios in Chicago. It was amazing what a difference that made in the quality. By then, Dave Neumann was writing, and the A&R man at Columbia really liked all of Dave's songs. Somewhere there are tapes of us doing Neumann originals like "JTK" and others. "JTK" was about James T. Kirk, as Dave was an avid Star Trek fan.

Tabernash:

By the time we moved to Colorado, we were trying to emulate Crosby, Stills, Nash and Young, The Allman Brothers and Steely Dan. All of the band but me wanted to do "non-commercial" stuff. My feeling was, if it's non-commercial, who is going to buy it?

When we moved to Westminster, Colorado, our first house, we all lived under one roof: Craig, Marianne, their young son Aaron, Dave, Paul and me. Eventually the girlfriends from Davenport came out; Teresa for Dave and Pam for me. Paul met Dave's cousin, Donna. Everyone split up to have their own households.

We didn't play much, so I had to get a job working in factories. Lange Skis was hiring, so I ended up running a bunch of riveting machines and met our eventual road guy, John Zimmer (now deceased). He introduced us to his friend, Clay who also helped out. There also was Colin who did our sound.

We were playing very little when Jon Ludtke called me to join Silver Laughter. I guess my leaving broke up Tabernash. We never recorded any music, I am sorry to say.

"Grey, Cloudy Skies" we revised and recorded on Silver Laughter's "Handle With Care" album.
Paul Staack would also join Silver Laughter after their first drummer departed. Craig Hute continued writing music and recording on two-track and, more recently, digitally.
The Contents Are have little presence on the internet, other than some reviews of their album and the titles of their songs. The album has one photo of the band, are there others out there?
Information on Silver Laughter from Mick Orton's website. On that site you can also hear a couple of the demos the band recorded in Chicago, including Craig Hute's excellent, rocking "Head Collect", and a live version of Mick's "All Around".
Update 2017: info on an obscure 45 single by Tabernash is now at this post on the site.