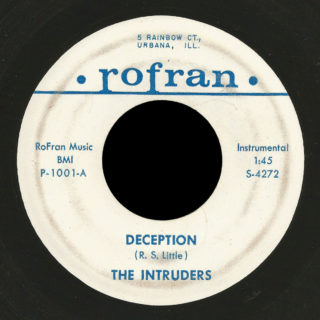 The Intruders have the very first release on the Rofran label from Urbana, Illinois. Both sides are very good guitar instrumentals, originals composed by R.S. Little. "Deception" is particularly sharp.
I don't know of any other releases by the Intruders, and the R.S. Little name does not appear on additional Rofran 45s that I've seen, so this may be their only recording.
The codes on the labels, S-4272 and S-4273 indicates Sheldon in Chicago did the pressing – anyone have a way to date those Sheldon numbers?
Intruders – Deception
Intruders – Intrudin'
So far I have not found a connection to any other Intruders group such as:
Pittsfield, IL, with Doug Oakley, Bill Mobus, Bob 'Bub' Evans, Larry Lemons and Jeff Hallows who released "Now That You Know" / "She's Mine" on IT 2312 in Sept. 1966.
Rockford, IL, who cut "Bringin' Me Down" (Ginsburg) / "The World You've Created (in Your Mind)" (John Bishoff) on Claremont CL 665 in May of '66.
St. Louis, MO, with Gary Szevery, Barry Schepers, Andre Garamella, Jim Ebert and Kit Sodergren, who cut "I'll Go On" / "That's The Way" on Marlo and "Total Raunch" / "Ruins" on Cinema in 1966.