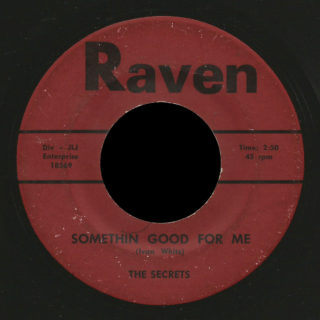 The Secrets' "Somethin Good For Me" / "Love" has as obscure an origin as any single out there. The band may have been from southern Illinois or eastern Missouri, but I don't know anything definite yet. The only name I can associate with the group is Ivan White who wrote both songs.
"Somethin Good For Me" is lo-fi perfection, offering plenty of atmosphere over a chunky rhythm, a pleading vocal and a simple but apt lead guitar break.
"Love" slows it all down and substitutes accordion for the rhythm guitar. I'd put up a clip but my copy gets scratchy sounding on this side.
Released around 1967 on Raven 18569/70, with production credited to "Div – JLJ Enterprise". This is a Rite release, as was the other Raven release I know of, Johnny Apollo "You're Sixteen" / "Shake the Hand of a Fool" on Raven 17829/30 from a year or two earlier, with J. Hutcheson credited as director.
Rite 286 is found in the deadwax, an early Rite account number dating back to 1960. 286 was used for at least two other singles: the Harmony Echoes single "Wonderful Guest" / "Gospels Singers Heaven" on Echo CP-6759/60 from 1961, out of WFRX 1300 AM, West Frankfort, Illinois, featuring Joe Williams, Phyllis Williams, Rolla Martin and Don McCool.
Also for Amateur 11421/2, the Coachmen "Lonely Rider" / These Memories of You", folk & pop from 1963 out of Maplewood, Missouri with J. Buchman credited on the label.
Maplewood is just west of St. Louis, and 115 miles northwest of West Frankfort. It seems possible the Secrets come from this area of southern Illinois or eastern Missouri.
Info on other Rite pressings from www.45rpmrecords.com