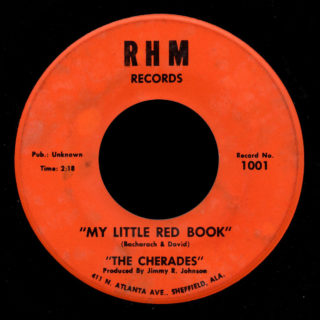 The Cherades are an unknown group who covered two hits from '65 and '66 for release on RHM Records 1001/1002. Their version of Love's arrangement of "My Little Red Book" is very good, I'd say this was a studio group except the lead singer sounds unpolished. It was backed with the McCoys' "Sorrow".
The single was produced by Jimmy R. Johnson, the session guitarist who would become co-owner of Muscle Shoals Sound Studios. These were most likely cut at FAME Studios in Muscle Shoals, Alabama, where Johnson produced the Rockin' Rebellions excellent "Don't Let Go" / "Anyway the Wind Blows" for Gold Groove 111.
RHM Records has an address of 411 N. Atlanta Ave, in Sheffield, Alabama. The deadwax of SIMS RHM 1001 / RHM 1002 with a "Nashville Matrix" stamp indicates this may have been considered for the Sims label owned by Russell Sims, who had released many soul singles cut at FAME.
Oddly the labels show correct publishing for "Sorrow" but list "My Little Red Book" as "Pub. Unknown"!
Max Waller wrote to me that he had a note from an unknown source listing "members include Ronnie, Joe, Frankie".