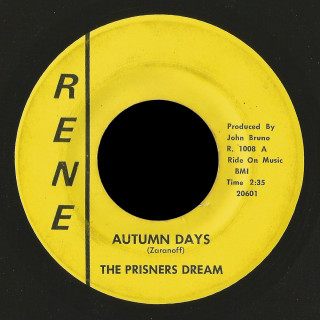 The Prisoner's Dream came from Canonsburg, Pennsylvania, just southwest of Pittsburgh, on the way to Wheeling, WV. I don't know who was in the band. Canonsburg is notable as the hometown of Bobby Vinton and Perry Como.
The Prisoner's Dream had one single, the melancholy "Autumn Days" / "You're the One I Really Love" on Rene R 1008 in November, 1967. John Bruno produced the session. The band's name seems to be misspelled as the Prisners Dream on the labels, which also give an incorrect spelling of the song writer's name.
The A-side has the melancholy sound some garage fans may like:
The Rene labels list both songs as written by Zaranoff and published by Ride On Music BMI, but copyright notices give his name as Peter Zaharoff. One listing from July of 1967 says Zaharoff also wrote under the pseudonym of Bryan Garret.
BMI's database lists another song of his, "Get Away" published by Sheri Glen Publications. Library of Congress copyright notices give several more, "Curtain of Green", "One Night", "Place Where Lovers Go", "Woman Who's Never There" and "Look What You've Done to Me", published in November and December 1966.
Chuck Edwards founded the Rene label, its related label Punch and Ride On Music. He had his own releases on the labels, including "Downtown Soulville" which Mr. Finewine has made into his theme song, and produced a handful of others. Most of the pressing were done by Rite.
Chuck Edwards went on to form a family musical group called the The Edwards Generation. Chuck passed away in 2001. There's an article I can recommend on Chuck and his labels on That's All Rite Mama.
This is not the same Rene Records as the one from Tennessee that released the Creepers' "Jammin' Granny".