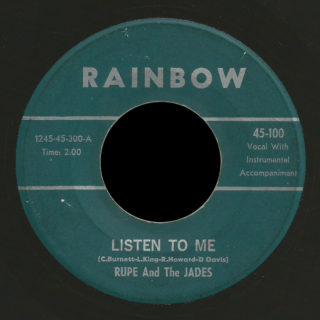 Rupe & the Jades came from Clifton Forge, Virginia, a town in Alleghany County. Rupe was Rupert Howard, who I believe was a number of years older than the teenagers usually making this kind of music.
Released on Rainbow 45-100, I originally thought this was a late '60s pressing, but Max Waller pointed out it's likely a King custom pressing from 1965.
"Listen to Me" is a good original song with a fine guitar solo. The writers were C. Burnett, L. King, R. Howard and D. Davis, all band members I assume.
Corky Burnett's original "A Time For Us" is a ballad with a whistling intro, and includes laments against war and poverty.
Rupert Howard later played mandolin and sang for the Mountain Magic Band, whose 1978 album Blue Ridge Mountain Magic proficiently combines country, bluegrass and rock.