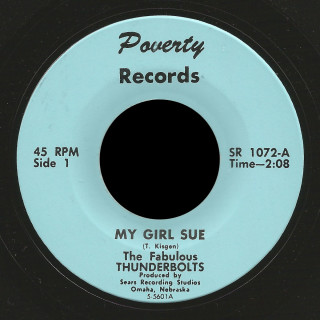 The Fabulous Thunderbolts started as a quartet at Kuemper Catholic High School in Carroll, Iowa. Carroll is situated about 90 miles drive NE of Omaha, Nebraska, or 90 miles NW of Des Moines.
The Thunderbolts traveled to Sears Recording Studios in Omaha to cut their only single, "My Girl Sue"/"I Want to See You Again" released in August 1965. Ted Kisgen wrote both sides and copyrighted both under his own name in April, 1965.
I'd like to know what other singles were recorded at Sears. The Echos V from Des Moines recorded a five-song demo there that has not been released. I haven't seen any other releases on a Poverty Records from Omaha.
"My Girl Sue" is a sharp two-minute rocker. The entire band is solid, but one can't help but notice the blazing lead guitar, the excellent lead vocals, and the sax solo.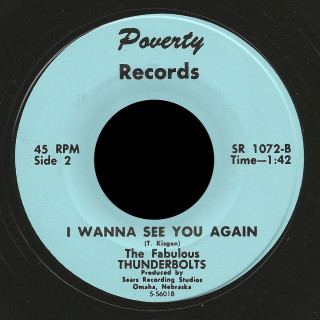 Members included:
Jerry Hauser – lead vocals
Ron Hauser
Gene Wycoff – saxophone
Mike Kisgen
Rich Danner
Harold Powell
Ted Kisgen – drums
They seem to have been a quintet for much of their existence. On their single I hear lead guitar, bass guitar, saxophone, drums and lead vocal. The Iowa Rock n' Roll Music Association Hall of Fame inducted the group in 2000 and has a tiny photo of the group as a quintet on their inductee page.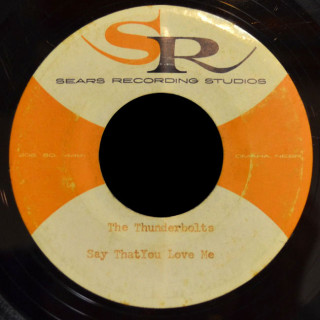 The band also recorded a couple of acetate demos at Sears that I haven't heard, the uptempo "Say That You Love Me" and an instrumental, "The Explorer" that seem to predate the Poverty release.
I had a photo at the top of the page from an ebay auction of this demo, but a comment below correctly pointed out the photo was of a different group, the Thunderbolts from Plattsburgh, NY.
Ted Kisgen joined a later version of the Green Giants, originally from the southern Iowa towns of Shenandoah and Bedford. They had one single on Round & Round Records 4501, "Pity Me" / "You're Going to Lose That Girl" in November 1966.