The Raymarks formed in 1962 in Bremerton, Washington, across the Puget Sound from Seattle. They began as the Orbits, changing their name twice, first to the Galaxies, and in 1964 to the Raymarks. They embody the Pacific Northwest sound – playing tough organ-based r&b numbers with a heavy rhythm section with little or no British Invasion influences.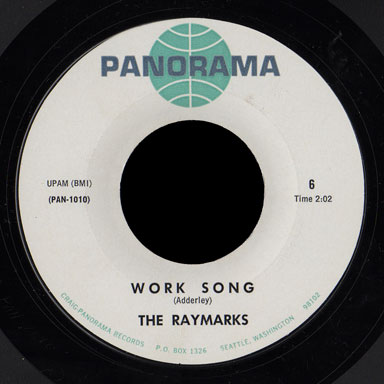 Their first 45 is a stomping version of "Work Song", my favorite cut by the band. The flip, "Backfire" is a good instrumental. Mike Spotts wrote most of the band originals, including their second 45, the pounding "Louise", which was mistakenly released under the name the Paymarks.
Their last 45 is another fine garage number, "I Believed", again written by Spotts. The Raymarks also had several good songs that went unreleased at the time, including "Walking Down the Street", "Feelin' No Good", "Hard Times" (which uses the same rhythm as "I Believed") and an untitled piece.
Members included Mike Spotts on keyboards, Ken Huff and Chuck Snyder on guitars, Greg Pettit and Terry Carter on saxophone, Larry Trudeau bass, and Terry Selvidge on drums. Like the Wailers (whose live album At the Castle features singer Gail Harris), the Raymarks' live shows included a female vocalist, Gail Davies, who is not on their studio recordings.
Chuck Snyder went to the Tacoma group the Noblemen in 1964. Ken Huff and Terry Selvidge were drafted in 1966 which spelled the end for the band.
Anyone have a photo of the group?
Sources include: The PNW Bands site.