The furious opening chords and drum rolls, the casual vocal delivery. Sharp guitar and Yardbirds style rave up – "Lovin' Just My Style" is one of the signature songs from the garage era.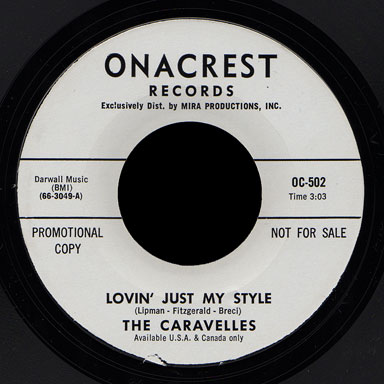 The Caravelles established themselves as a live act in Phoenix and somehow got the attention of Hadley Murrell, a DJ at the AM soul station KCAC. Murrell produced many of Phoenix's soul acts in the mid-60's, including Eddie and Ernie (45s "Time Waits for No One", "I'm Goin' for Myself", etc), the New Bloods, and the Soul Setters, whose 45 "Out of Sight" was also released on Onacrest.
When the Caravelles recorded their single in 1966, the lineup included John Fitzgerald on vocals and harmonica, Mike Lipman lead guitar, Jerry Breci rhythm guitar, Danny Reed keyboards and Doug Steiner on drums.
"Lovin' Just My Style" is an original by Fitzgerald, Lipman and Breci. For the flip, they covered a song by the New Bloods, "Self-Service", with the memorable lines: "I don't have no one to love me, I don't have no one to kiss me … so I'll have to serve myself … Self-service!"
Rick Anderson may have been bassist at the time of the record; he later joined the Superfine Dandelion. The band's first keyboardist was Brooks Keenan, and Neal Smith was their last drummer, before he joined Alice Cooper.