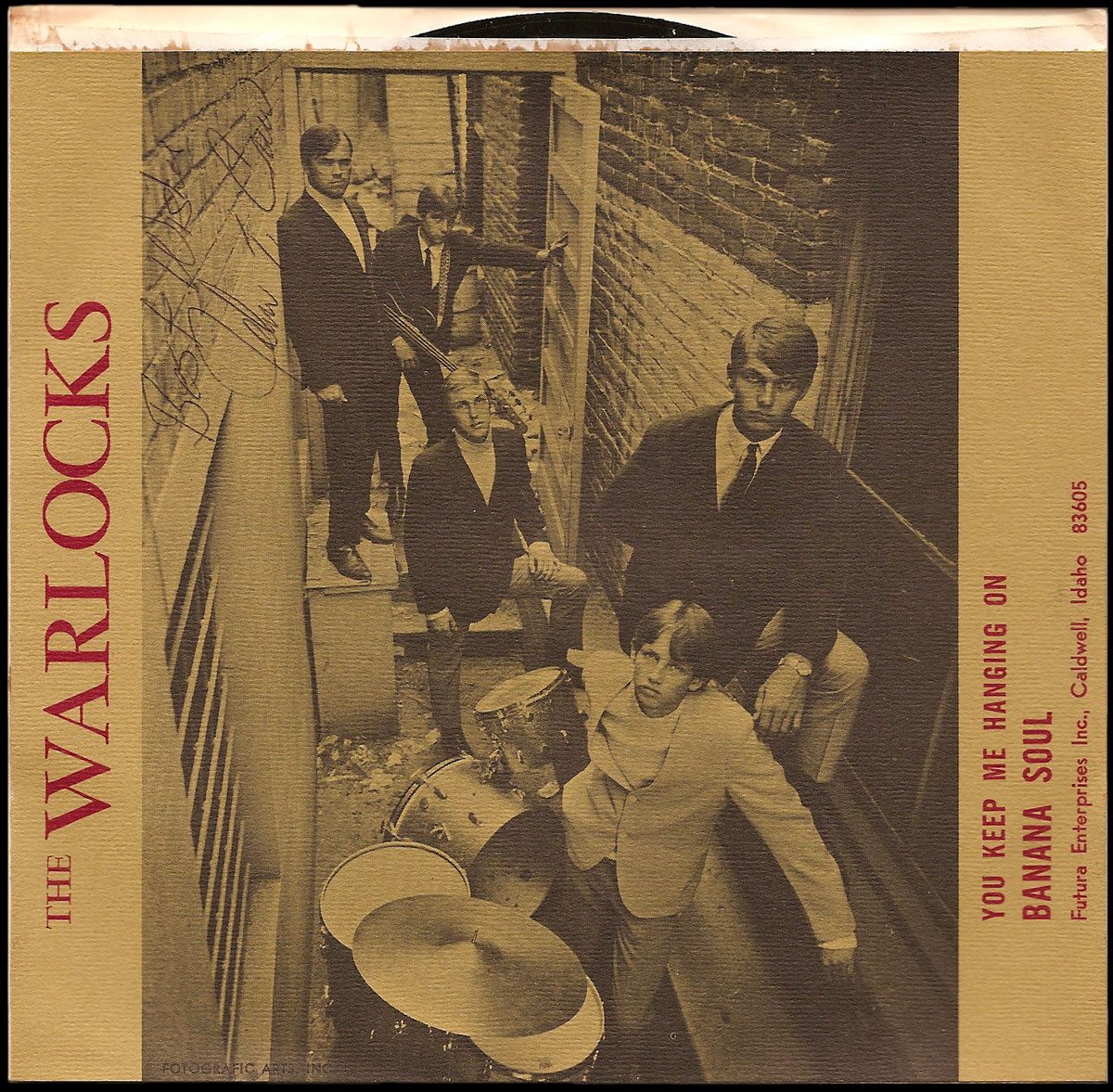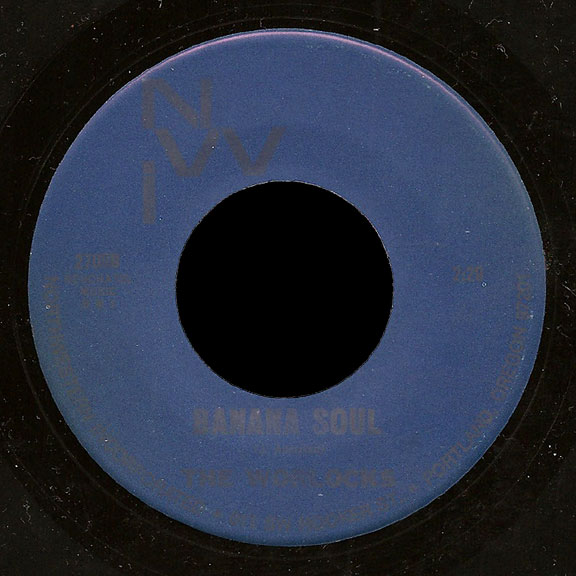 I had read about this 45 but hadn't actually heard the songs until lead guitarist Jerry Sloan contacted me and sent transfers of the music and the great photo below. "You Keep Me Hanging On" is done in the style of Vanilla Fudge though not as heavy. "Banana Soul" turns out to be an adaption of "Watermelon Man".
The picture sleeve consists of a printed card glued to a plain white 45 sleeve. Interesting that the sleeve has the band's name as Warlocks while the 45 spells it Worlocks. The sleeve reads "Futura Enterprises, Inc. Caldwell, Idaho 82605." Caldwell is 25 miles west of Boise.
The 45 was recorded at NWI (Northwestern Incorporated) studios in Portland, Oregon, which bands hired to record and press their records for them. The label number 2709 is close to that of the Gentlemen Wild 45 on NWI (#2694), which dates this to late 1967 or early 1968.
I guess NWI also handled publishing for original songs recorded by groups, as Neuchatel Music BMI is listed as publisher on "Banana Soul" just as it is on the Gentlemen Wild's "You Gotta Leave". However, neither song is currently registered in BMI's database.
It wasn't unusual for bands to leave Boise to record – William Penn and the Quakers traveled to the Bay Area, and the Mystics went to Sountronics in Lodi, CA to record their great 45 "I Get So Disgusted / "Weekend People" (released as by the Mystic on Frantic – hear it on the Up From the GraveCD from Frantic Records).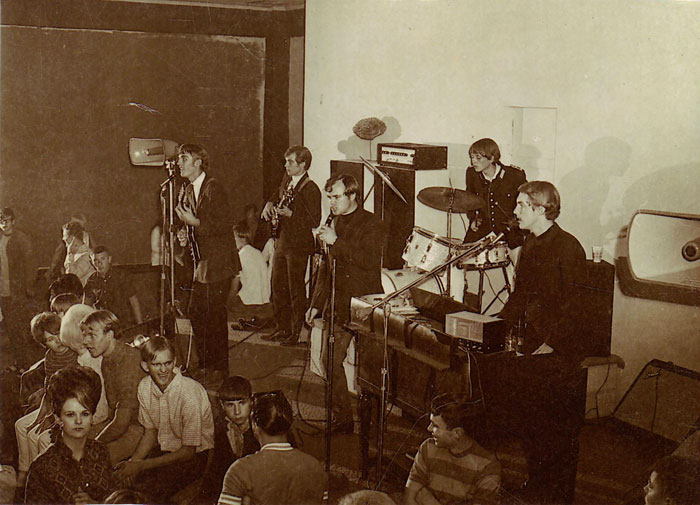 John Crew was leader of the group, and had been in other bands prior to the Warlocks. The members of the group were:
John Crew – vocals
Jerry Sloan – lead guitar/vocals
Jon Anderson – keyboards/vocals
Steve Messuri – bass
Mark Lanfear – drums
Jerry added this information:
John Crew formed the Warlocks a year or so before I joined the group. I was playing with another group at the time, but saw an opportunity with the Warlocks that I thought had, if not potential for fame and fortune, at least fairly steady local work.

Recording a record was a goal of most local bands at that time, so we decided to give it a try. Portland was the closest city with a reputable recording studio, so we pooled our money and scheduled a recording session. "You Keep Me Hanging On" was a favorite of John Crew's, so we decided on it for the lead song, and John Anderson had written the instrumental, "Banana Soul" for the flip side. We ordered a 1000 records, and probably sold half of them, and gave the other half away to friend and relatives. The record was played on local radio stations a few times, but never took off as we had hoped it would. I still have one copy framed on my den wall.

I am attaching a picture of Warlocks playing at the "Soul Kitchen" (formerly called the "Cinnamon Cinder") in Caldwell, Idaho, our Saturday night gig for about three years. The band eventually broke up for various reasons, and some of the members played in other local groups…none achieving fame and fortune that I know of.

Some other groups playing in the Boise area during that time were the Crystal Ship and the Lee Curtis Group. I played in the Lump Sum, the New Critics and, later, Street Level. I quit playing in bands when Street Level broke up in 1978. There was one person that I used to jam with who did become quite well known for his music and song writing…Bill LaBounty, who played with Fat Chance out of Seattle.

If I may, I'd like to say that my son, Todd Sloan, picked up the music bug from me I suppose. He has made made a career in the Seattle and Boise area. His band is low-fi, check him out at myspace.com/lowfirocks. Todd writes all of the band's material, and they are planning to record a new (independent) CD in January.

Jerry Sloan, December 2009
Thanks to Alle. for the scans of the record sleeve and labels, and for inspiring this article.