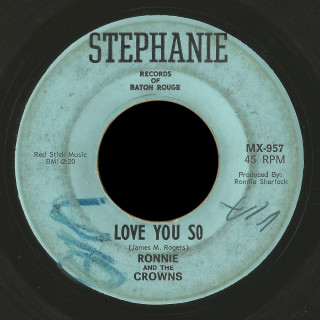 Ronnie and the Crowns formed as early as 1962 at Westdale Junior High in Baton Rouge. Members on the single may include:
Ronnie Sherlock – vocals
Jimmy Rogers – lead guitar
Cal Arnold – bass
A.J. Miceli – drums
Although not audible on the single, the band also included a full horn section at some point:
Charlie Spinoza – trumpet
Ivan Bergeron – trumpet
Tommy Berthelo – tenor saxophone
Richard Sherlock – baritone saxophone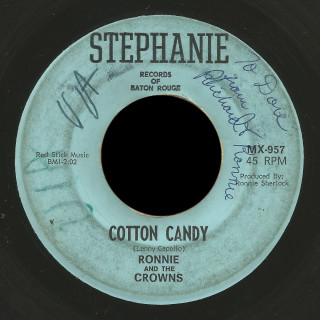 In 1966 they recorded their one excellent single on Stephanie Records of Baton Rouge #MX-957. One side is "Love You So" written by James M. Rogers, lead guitarist in the group and featuring his super-trebley and reverbed guitar. The flip is a cover of Lenny Capello's New Orleans classic "Cotton Candy" ("I know my Candy is always handy").
Ronnie Sherlock produced the Ronnie & the Crowns single. My copy is pretty rough, but it's inscribed "from Richard & Ronnie" on the "Cotton Candy" label.
I don't know much about Stephanie Records, other than seeing a list of 10 or so singles released on the label. Sam Montel (S.J. Montalbano) must have owned the label as two early releases have his name as producer. Also, the MX- prefix is present on all releases on the label, and shows up on many releases on the Montel and Michelle labels, as does the Red Stick Music publishing, used for "Love You So".