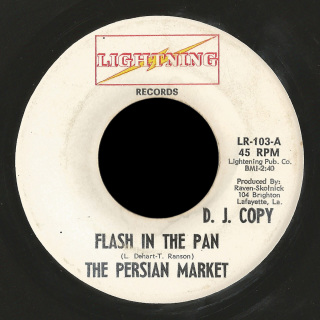 Lee DeHart – lead vocals
Doug Cochrane – lead guitar
Brad DeHart – rhythm guitar, vocals
Tommy Ranson – bass and vocals
Doug Begneaud – organ
Keith Thibodeaux – drums
Joe Stein – percussion and vocals
The Persian Market came from Lafayette, Louisiana. In May of 1967, the band recorded four songs at La Louisianne's studio in Lafayette. Two of these, "Flash in the Pan" and "The Wind Is Ours" were released on Lightning Records LR 103. They also recorded versions of "Sometimes Good Guys Don't Wear White" and "The Gamma Gooce", which eventually saw release on Cicadelic. "Flash In the Pan" is a driving garage number, led by the organ playing and with a good vocal delivery. It was written by Lee Dehart and Tom Ranson. The flip is the softer "The Wind Is Ours" (written by Brad Dehart for Lightening Pub, BMI).
The single was produced by Eddy Raven and Ben Skolnick, 104 Brighton, Lafayette, LA; the address is a house not far from the Vermilion River. Ben Skolnick managed the group.
Keith Thibodeaux had acted the part of "Little Ricky" on the TV series I Love Lucy and also played in another group, Little David and The Giants.
Anyone have a photo of the band?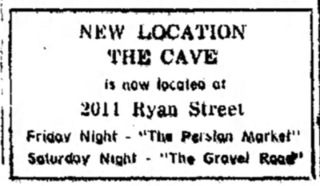 The first 45 on the label was Lightning LR-101, the Roamin' Togas "Bar the Door" (Person, Adams, Prust) / "You Must Believe Me" from June of 1967, with the same production and publishing credits as the Persian Market. The Adams in the credits seems to be Pete Adams, according to BMI. I'm not sure of any other releases on Lightning, but the Togas and Persian Market are now very rare, fetching about $200 nowadays.
Sources: Brad DeHart's website and Mike Dugo's interview with Doug Cochrane.