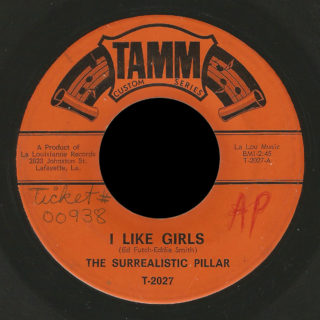 The Surrealistic Pillar came from Lafayette, Louisiana and cut the classic "I Like Girls" circa 1967 or 1968. The names on the label, Eddie Smith and Ed Futch, were not members of the band, but Ed Futch is likely singing lead vocals on "I Like Girls" – he has become well known by his stage name, Eddy Raven.
The lyrics, what I can make out of them, are from a different era:
Sitting in a car, the tape machine is blaring,
Watching all the girls, and digging the clothes they're wearing.

When I see a mini-skirt, it drives me crazy,
Cause all the time I'm watching, I'm thinking … maybe,
I would find a girl that would say "surely".

You could laugh at me, but never call me stupid…
[I wish I could make out the words of the third verse.]
Ed Futch, Eddie Smith wrote "I Like Girls" and Eddie Smith wrote the unusual instrumental, "Mexican Calliope" (rated a "2" in Teen Beat Mayhem!). La Lou Music BMI published both songs.
Though issued on Tamm Custom Series T-2027, this is a production of La Louisianne Records, which issued plenty of great singles, including Eddy Raven's "Misery" and (for garage fans) the Rogues incredible "I Don't Need You".
A defunct website Turn Me On Dead Man had some info from one of the members of the band dating back to about 2003, but that person's name is left off and only first names are given for the rest.
Well, the band started in 1965-+. We all went to school together or close to each other and somehow started playing together and then started a band. We used the name Kings Council at first, then took the name from a Jefferson Airplane album.

The band had six members with a light man and helper. I played bass. Ernie played drums, Benny played lead, Bubba played guitar, Rayburn sang, Glynn played lights and Clyde played tam, lights, and helped out.

We had Kustom equipment and a Hammond organ, so we could play stuff by Vanilla Fudge, Steppenwolf and other great bands.

I saw Eddie Futch['s] (Eddie Raven) name listed, he is related to Benny. Eddie Smith is the one who got with us and taught us the song "I Like Girls." He paid for the recording session and we sold about 200 copies. There is a couple still floating around. We used to play places like the Swing Machine, a college hangout. All I knew is we just had to play loud.

I just retired from the Lafayette Police Force after 29 years. In 1969 I went into the USMC and did my tour in VN [Vietnam]. Some members of the band went on to play in Sage. Benny is playing guitar in church. I have several guitars and play with Benny when we get together. The rest of the guys live around here [Lafayette, Louisiana] but me and Benny are the only ones who still play.