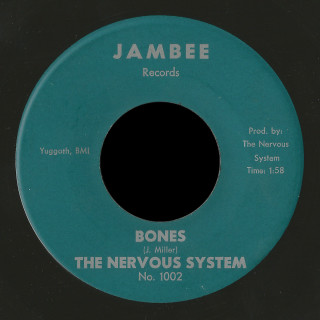 The Nervous System had two 45s on the Jambee label circa 1967, though one side, "Make Love, Not War" was used for both releases. The band seems to have been from the Chicago area, though I don't have confirmation of that.
Their first 45, on Jambee 1001/1002 included the song "Bones", with a first line that really hooked me: "I like the way she's wrapped around her bones, the way she talks and how she smiles at me…"
The tense performance, the atmospheric production and the melancholy nature of the song makes "Bones" stand out for me, compared to the intricate but low-key "Make Love, Not War". Both songs were written by J. Miller for Yuggoth BMI, and produced by J. & M. Miller. A 10″ acetate from Universal Recording Corp. on E. Walton includes "Make Love, Not War" plus a decent try at "Foxy Lady".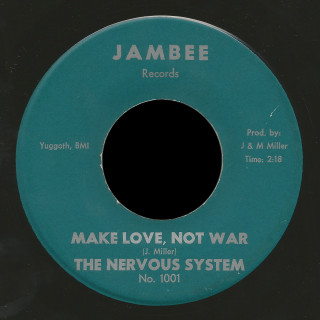 The Nervous System's second release included "Oh!" written by J. & M. Miller and produced by J. Miller and P. Serrano. It shows up on another Universal Recording acetate backed with a pop song, "Hello Sun" and a bluesy public service announcement, "Keep Chicago Beautiful".
The only other release on the Jambee label that I know of is Circus, "I'll Always Love You" by W. Stevenson and I. Turner, b/w "Away From This World" by Kevin Murphy, which is Jambee 1007/1008, so I suppose there's a Jambee 1005/1006 out there somewhere but haven't seen it yet if it exists. The producers for the Circus record were Jordan Miller, Morrie Parker, at least giving us a clue who J. Miller was.
Much more is known about Circus, who seem to have included Rick Panzer on piano, Kevin Murphy on Hammond organ, Jimmy Stella on vocals, Larry McCabe on trombone/trumpet, Bill Mickelburg, Vern Pilder and Phil Michilson on guitar, and Ross Salomone on drums. They had a much more brash sound, something like Sly & the Family Stone, featuring heavy funk and a full horn section. After the Jambee 45 they had a release on Columbia, also produced by Morrie Parker, "Where Are You At" / "Read All About It" in 1969. Eventually those three members joined with guys from the American Breed to form Rufus.