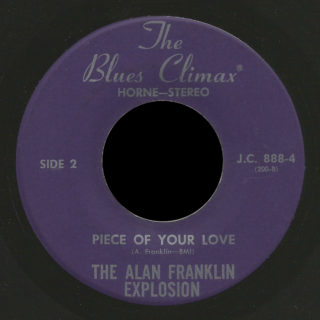 The Alan Franklin Explosion have received some attention from collectors of private underground albums, but this 45 is worth discussing. Both "Piece of My Heart" and "Bye Bye Baby" were taken from Alan Franklin's second LP, the one that has his b&w photo and both "The Alan Franklin Explosion" and "The Blues Climax" on the front cover, on the Horne label, J.C. 888-L.
Franklin was from Tampa, Florida, but recorded at Bee Jay Recording Studio in Orlando. The musicians were:
Alan Franklin – lead vocals, rhythm guitar
Chris Russel – lead guitar
Buzzy Meekins – bass
Dave Dix – drums
Apparently this was not an actual band but consisted of some teenage musicians invited to play with Alan in the studio. David Dix would go on to join the Outlaws.
"Piece of My Heart" is a wild, weird come-on, you can hear this version on youtube. "Bye Bye Baby" more conventional blues-based rock. The label was Horne, with a release # J.C. 888-4. These two songs were included on the first side of the album, Alan Franklin Explosion – The Blues Climax cut in 1969 and 1970. Alan Franklin produced and Bill Vermillion engineered. Alan Franklin wrote all the songs, published by Penetraion Sound Publishing Company.
The notes on the back cover of the LP are worth quoting in full for their hype:
This is a wild savage approach to hard rock blues combining vicious jungle rock rhythm with very tight and lightening fast rhythm and lead progressions with a base that goes right inside of you. The vocals are wild and insane yet loving and caressing. The sound that these four cats put out is so fantastic that you won't be able to turn it off. This is a new sound, a sound as wild and free as the Climax itself. For the Climax is made up of four rebellious wild fanatical musicians who literally go insane on stage, causing riots at every performance. People are going all the way with the Blues Climax. If you like hard rock music then you will love the Blues Climax.

– Albert Freeman ~ Penetration Publishing Company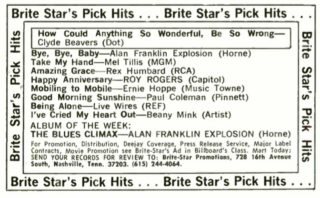 The LP was chosen as Album of the Week in a small ad featuring "Brite Star's Pick Hits", run by a Nashville promotion company that was probably paid for the endorsement.
Alan Franklin's first LP was called simply Blues Climax, recorded about 1968. The musicians are only Alan Franklin on guitar and vocals and Ray Vaughn on drums. It was released with red Horne labels, J.C. 333-7. Three of songs on this first would appear on the second LP in somewhat more polished versions. This earlier version of "Piece of My Heart" is so amazingly raw and crude, with great Bo Diddley type rhythm guitar playing:
His next LP seems to be titled Alan Roy Franklin released sometime in the 1970s. I haven't heard any of it, nor his 1980 LP, Come Home Baby, credited to The Alan Franklin Explosion. This last one has a cover that has to be seen to be believed: Alan reclines on a bed, long-haired and shirtless, a jug of wine, copy of High Times, some cash and what looks to be a bong next to him on the red velour sheet.