Here's an incomplete listing of released recordings made at Alan Graves' studio:
any help with this discography would be appreciated
45s:
Graves 1091 – Dominions – "I Need Her" / "Spanish Harlem"
Graves 1094 – Sires – "Don't Look Now" / "Come to Me Baby"
Tork 1095 – Moguls – "Another Day" / "Round Randy" (Dec. 1966)
Graves 1099 – Ethics – "She's a Deceiver" / "O.K." (March 1967)
Graves 1100 – Fifth Row Bac – "Please Don't Go" / "Destination Train"
Graves GRS 1102 – Smokey Metcalf And His Timber Toppers / "How Can You Love Me" / "Don't Come Knocking At My Door"
Graves 1104 – Phantoms – "Hallucinogenic Odyssey" / "Sixty Minutes To Nine" (1967)
F-Empire 1106 – The Barber Green – "Gliding Ride" / "Life" (August 1968)
LP:
F-Empire (no #) – Beauregarde (features Beauregarde on vocals, Greg Sage lead guitar, Omar Bose keyboards and trumpet, Dave Kolpel bass, Allen Robinson congas and sax, and Jay Lundell on drums.)
The Moguls had two previous 45s: "Avalanche" / "Ghost Slalome" on Century 20449 in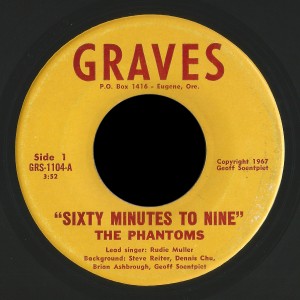 Feb. '65, and "Ski Bum" / "Try Me" on Panorama 29 in March of 1966.
The Phantoms 45 on Graves lists the band members: Rudie Muller, Steve Reiter, Dennis Chu, Brian Ashbrough and Geoff Soentpiet. Rudie Muller sings lead on "Sixty Minutes to Nine", Geoff Soentpiet sings lead on "Hallucinogenic Odyssey". The Phantoms had an additional 45 on Ridon 859, "Story of a Rich Man" / "Our Great Society" both by Ashbrough and Soentpiet.
I asked Alan Graves about the bands that recorded in his studio in the 60's and sent him a list of what I knew had been cut there:
The only record I can add is one done on the F-Empire label, GRS 1106, "Gliding Ride" and "Life" by the Barber Green.
There may be other "garage" bands, but most of the stuff I did was local schools, etc – some gospel and dixieland jazz band stuff.
None of the records pressed were released by me, but were the property of the individual bands -who either gave them away or sold them. Most were done in a limited press of 500 copies each. So if you have any of them, I guess you could say they are rare. Since the records were the property of the bands, I rarely kept any copies – and have none now.
I re-activated the studio by acquiring a Scully Mastering record cutting Lathe, and under the name of "The Audio Lathe" cut lots of "acetate" records for DJ's and juke boxes.
I sold that last November, and now back to just hosting the History of the Presto Recording Corp on the internet.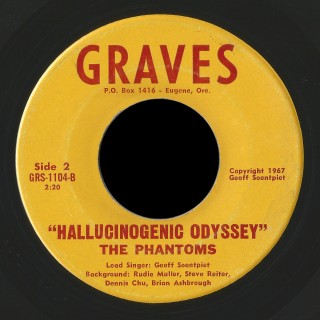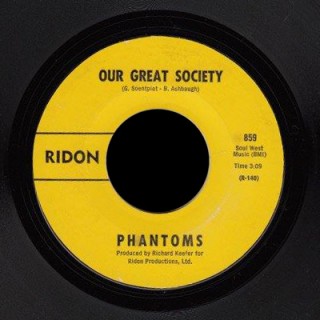 To right, the Phantoms' second 45, recorded at Ridon by Rich Keefer Thank you to Barry Wickham for the scan. Thanks to Dale for pointing out the Smokey Metcalf.