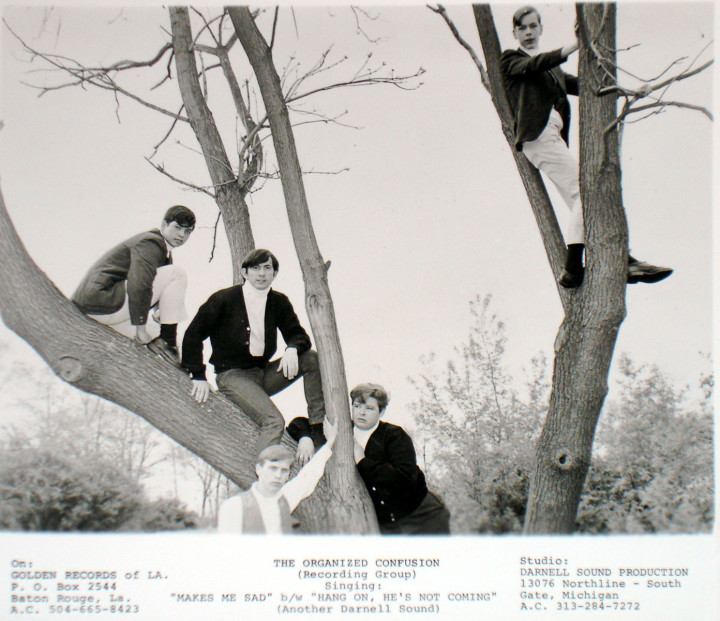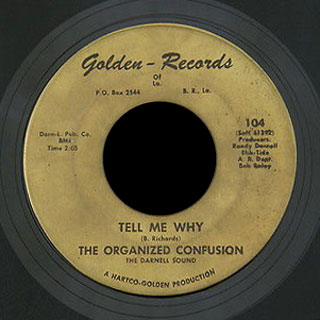 I wrote about Alva Starr, who had two interesting garage releases on Golden Records of La., based in Baton Rouge, Louisiana. This single by the Organized Confusion is the other garage single on that label. It features two good original songs by Bill Richards, "Tell Me Why" b/w "Makes Me Sad". Production credited to Ebb Tide and Randy Darnell, published by Darn-L. Copyrights for these two songs plus one called "Bad Girl" were registered with the Library of Congress in May 1968.

Interestingly, the band was from the Detroit, Michigan area. Ebb-Tide (Ebb Harris) of Golden Records ran classified ads in Billboard in 1967 and 1968 looking for songs and finished songs. Randy Darnell of "The Darnell Sound" may have seen these ads and responded, or A&R man Bob Balog may have brought the band to Golden.
A promotional photo from the old G45 Central forum shows the band in a tree, and the songs for the single list "Hang On, He's Not Coming" instead of "Tell Me Why". Contact info is given both for the label, Golden Records and the production company, Darnell Sound Production, which has an address of 13079 Northline, Southgate, MI, south of downtown Detroit.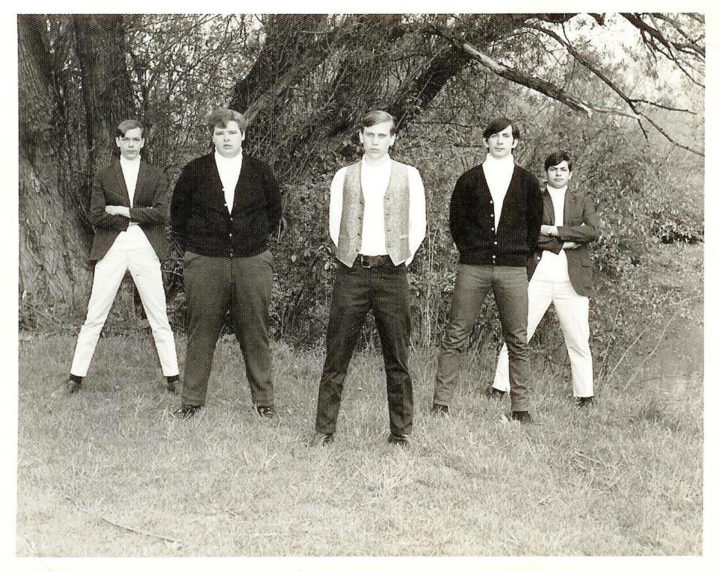 Update, February 2017:
Joe Grabowski and Al Consiglio sent in the photo of the group standing in front of trees and gave me more info about the band:
Dave Thibert – lead vocals
Bill Richards – lead guitar
Joe Grabowski- rhythm guitar
Matt Sclafani – bass guitar
Al Consiglio – drums

In the mid 60's two Wyandotte friends and neighbors, Al Consiglio and Joe Grabowski joined Al's cousin Matt Sclafani, living in Southgate, who knew Bill Richards and Dave Thibert. The five put together a play list, rehearsed the tunes and played local venues. Bill wrote the two recorded songs and pursued the necessary contacts to find the recording studio of Randy Darnell at 13079 Northline Road in Southgate, MI and produce the record. The building now is a beauty salon.

The band stayed together for a short time after making the record as the members focused their attention on finishing school, girls, cars and careers (in no particular order). To my knowledge no one was in a band prior to or went on to join other bands after the Organized Confusion.

Venues:

Knights of Columbus – downtown Wyandotte, MI
Knights of Columbus – Southgate, MI
Southgate Anderson High School – Southgate, MI
Davidson Jr High School – Southgate, MI
ALSAC Benefit with many other local bands including Little Carl Carlton – River Rouge, MI
Lawrence Technological University (Lawrence Institute of Technologies) – Southfield, MI
Southgate Shopping Center (in front of Montgomery Ward) – Southgate, MI
Aquinas High School – Southgate, MI