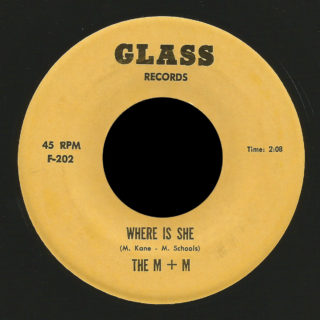 I can't find any info about M + M, other than the names on the two singles they released on Glass Records, M. Kane and M. Schools. I've tried other variations on their band name, M+M or M&M, without luck.
Although the songs feature a full group of guitar, bass, drums and even harmonica with one vocal, it's possible this was a duo who overdubbed their parts to fill out the sound.
All four singles have "72" etched into the deadwax along with the Glass Records numbers, so I think that is likely the year of the recordings. Given that two of these are nearly four minutes long, a seventies date makes sense.
I have no idea where they came from, but lead vocals do have a southern sound to them. On the other hand, I bought these from someone in New Jersey and a different copy of the second 45 sold from a Brooklyn location.
I prefer the B-sides of each single. "She Shut Me Down" stands ouf among the four cuts for the melancholy feeling and tempo changes. "Where Is She" is the most upbeat of the four.
The Glass Records release numbers are:
F-201/2: "Your Turn to Cry" / "Where Is She"
F-203/4: "No More Crying" / "She Shut Me Down"
All songs written by M. Kane and M. Schools, no publishing listed.