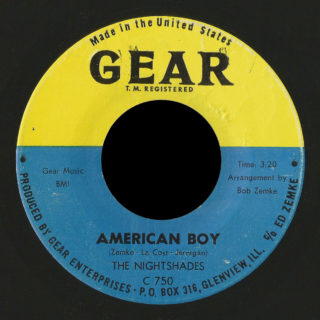 The Nightshades formed as the Deadly Nightshades at Glenbrook South High School in Glenview, IL, a suburb of Chicago. The group's lineup changed, sometimes to a quartet or trio format, but included at various times:
Gary Schaeffer – vocals
Bob Zemke – lead guitar
Larry LaCoste – rhythm guitar
Phil Jernigan, replaced by Tom Lavin – bass
Don Locke, replaced by Kenny LaCoste – drums
I only have one of their singles, the second of three the band released on Gear Records in 1967 and 1968.
The first was "Summertime" / "Wonder Where My Baby Is Tonight" on Gear 747/8.
"Summertime" and the Kinks cover are cool enough, but I like the original songs on their second single on Gear C 749/750, "Flying High" and especially the heavier "American Boy" with its sustained guitar sound and lyrics that would tell an interesting story if I could decipher more of them. The labels list Zemke, La Cost, Jernigan as writers for both songs, published by Gear Music BMI, with arrangement by Bob Zemke, plus Gear Enterprises, c/o Ed Zemke.
I haven't heard their last single, "Sweet Cecelia" / "My Mother Done Told Me (That You Were a Lover)" on Gear 751/2.