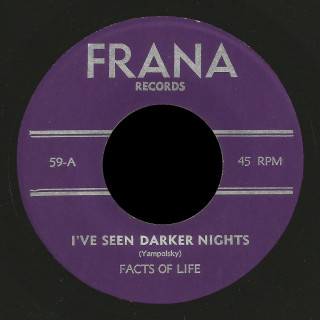 There isn't much information about the Facts of Life despite the group's fine 45 single. The group came from Bala Cynwyd, Pennsylvania, which lies just to the west of the Philadelphia city line. Members included Bruce Klauber, later a jazz drummer and professor, and Robert Yampolsky, who wrote both songs on their only single. I don't know the other members' names.
"I've Seen Darker Nights" begins with a blast of distorted guitar but otherwise is free of fuzz. The lyrics are heartfelt, the singing good, the arrangement has good hooks and momentum from the rhythm section. There's a long solo on the organ and a brief guitar break.
The flipside, "All In Good Time" has a good ballad sound with a basic guitar solo. Robert Yampolsky copyrighted both songs in October, 1967, and the record came out as Frana Records 59-A/B. I don't know of any other releases on the Frana label.