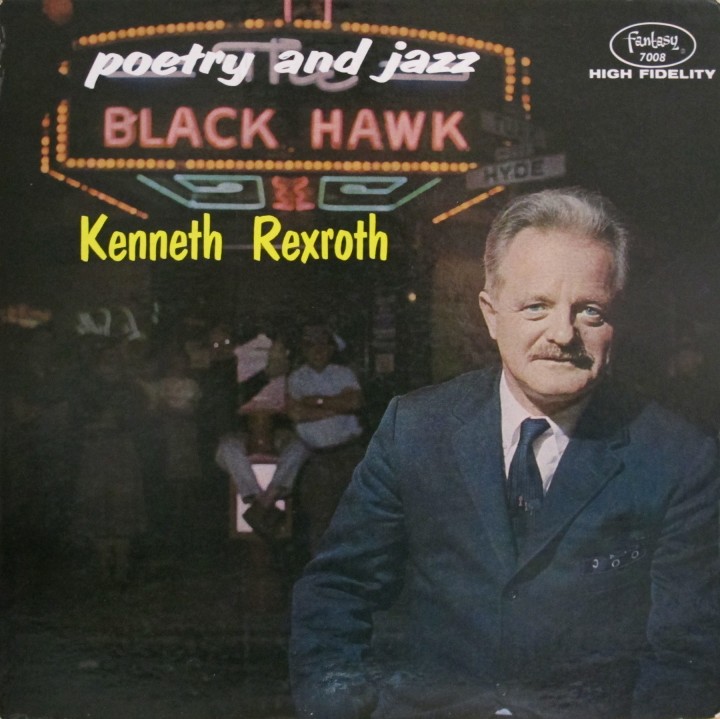 I usually wouldn't write about an album like this, but when I bought this copy of Kenneth Rexroth's Fantasy LP "Jazz & Poetry at the Black Hawk", I found hand-written notes inside the cover on copies of two of the poems recorded: "Nicholas Dog of Experience" and Rexroth's translation of Francis Carco's "The Shadow".
Reading through these it's obvious drummer Hank Uribe jotted these notes during the session to guide his playing. He also lists the musicians on the session, something I haven't seen published elsewhere, even though they had an entire back cover to fill with notes. Musicians were: John Mosher, bass; Clair Willey, piano; Dickie Mills, trumpet; Brew Moore on tenor sax; and Hank Uribe on drums.
Kenneth Rexroth wrote an essay called "Jazz Poetry" for The Nation magazine in 1958 discussing how he was working with a quintet that included three musicians who would appear on the Black Hawk album: Brew Moore, Dickie Mills and Clair Willey; plus Frank Esposito on trombone, Ron Crotty on bass and Gus Gustafson on drums.
For kicks I'm also including a scan of a legal release to allow photos to be taken in the Black Hawk club in San Francisco. All this may be minor history, but I know someone else besides me will be interested in it.
The collaboration of beat poets with jazz musicians is a strange and funny genre, and Rexroth's delivery is one of the oddest:
Rexroth passed away in 1982; Hank Uribe in February 2011. Brew Moore was probably the most famous musician on this session, which would have taken place just before he dropped out of the jazz scene until relocating to Europe. Fantasy released an LP under his leadership in 1956, featuring a band that included Dickie Mills. Moore died in 1973.