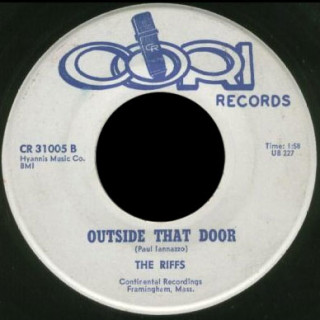 Cori Records was the house label for Continental Recordings studio in Framingham, Massachusetts. I discussed the studio in some depth in an article on the Balladeers, who had the first two 45s released by Continental. Max Waller and I put together this discography of the label. It's incomplete, especially in regard to the LPs, so if you have any additional information please contact me.
All 45s after the first have matrix codes for Capitol Custom pressings. The first letter of the code refers to the year (T=1965, U=1966, W=1967).
Most publishing is either Hyannis Music Co, BMI or Donna Music Pub. BMI.
On "You've Got Me Cryin'" BOSS TODES is written below The Mauve but marked out on all copies I've seen. The band had a second 45 as the Boss Todes on the Sound City label in 1967, "Have Certainty" / "Sally the Pollywog".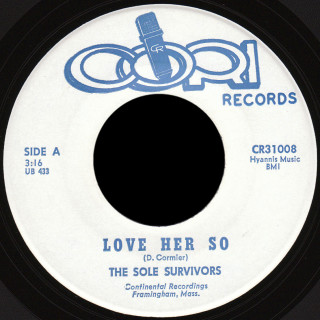 45s:
E.P. Scroggs CR-0001: The Balladeers "Cape Cod (Here We Come) / "Land of the Sea and Sun" (ZTSP-94612/3) (Summer, 1964)
Cori CR-31001: The Balladeers "Words I Want To Hear" / "High Flying Bird" (TB 631/2) 8/1965
Cori CR-31002: The Royals "I'm All Alone" / "The Lady's Bad" (both by Villanucci – Krikorian, June 1965)
Cori CR 31003: The Valkyries "Love You Like I Do" (Curtis) / "Blues For Cookie"(TB 476) 1965
Cori CR 31004: Al Gay "Soldier's Last Letter" / "Over and Over"
Cori CR 31005: The Riffs "Outside That Door" (Paul Iannazzo) / "Holy Ravioli" (UB 276) March 1966
Cori CR 31006: The Mauve "You've Got Me Cryin'" (Ford-Weeks) / "In The Revelation" (Arranged by Eric Sample, UB 238) March 1966
Insegrievious CR 31007: The End "Bad Night" / "Make Our Love Come Through" (IAM 45-UB-388/6-P1) 1966
Cori CR 31008: Sole Survivors "Love Her So" (D. Cormier) / "There Were Times" (R. Pieroni) PS (UB 423, both sides Hyannis Music BMI) 1966
Cori CR 31009: ??
Cori CR 31010: C.C & the Chasers "Two And Twenty" / "Hey, Put The Clock Back On The Wall" (WB 144/5) 1967
Cori CR 31011: Shyres "Where Is Love" (Cox) / "My Girl" (Beckmann) (WB 218/9, both sides Hyannis Music BMI) May 1967
Cori CR 31012: Jerry Seeco Sextet "That's All" / "Teach Me Tonight"
Cori CR 31013: The Kumbaya Singers "To My Brothers" / "Ruben Harte"
Cori CR 222: Brownie Macintosh with the Harry Gronki Corale "Rye Whiskey Joe" (Bill Staines) / "The Call" (Gene MacLellan) – 1971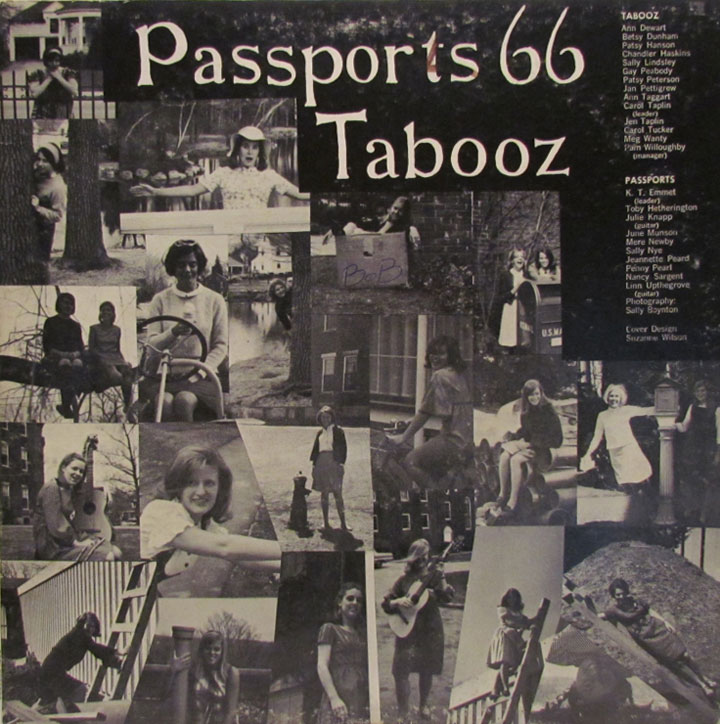 LPs:
Remnant Records RBA 3571: The Rising Storm – Calm Before…
Cori CRLP 31002: The Passports and the Tabooz – 66 (Bradford Junior College)
Cori CR 3101: Bobby Orr – The Two Sides Of Bobby Orr
Cori CR 3111: Paul Wayne – Live At The Garage
Cori CS 31009: Endless Knights – Something For You (1971)
Cori CS 31016: Endless Knights – Back For More (1975)
Cori CS 31017: Brownie Macintosh – Coastline Brownie (1975)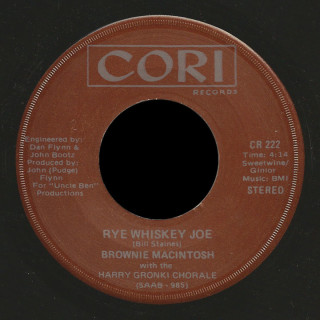 Brownie Macintosh wrote to me about his recordings on Cori:
I met Dan at probably the most troubled time of my life. I was about 19 and had been kicked out of boarding school a year and a half earlier. I used to drive by the studio on my way from Wayland, MA to Hopkinton to see my then girlfriend. After about a year I got up the courage to knock on the door and Dan was very nice and showed me around. I was absolutely in love with the possibility of working in a studio, and after two or so years, Dan hired me to sing on two jingles … I was hooked.

I did first a single "Rye Whiskey Joe" b/w "The Call" which Dan loved and we had some action on radio, but could not get major Boston airplay, even though we came close. We did the single in 1971. It was exciting as Dan and Pudgie knew a lot of DJs and everyone who came through Continental was forced to listen to it. "Rye Whiskey Joe", the A-side, was four minutes long, unheard of for an unknown at the time.

I have since produced countless recording sessions, commercial jingles, corporate pieces, records, etc, and written songs for and with The Kingston Trio, The Irish Rovers (which produced my first and only gold record) and many large music publishing companies.
Thank you to Max Waller and Brownie Macintosh for their help with this discography.