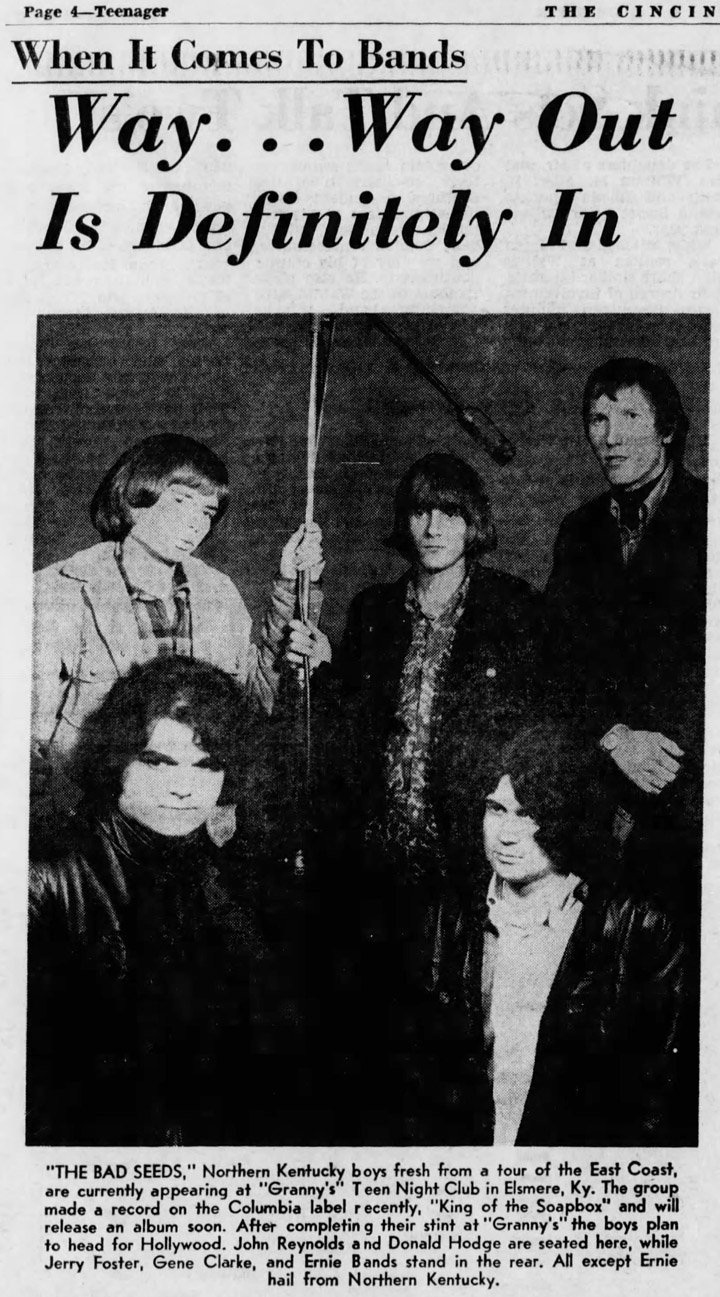 The Bad Seeds came from northern Kentucky, in the greater metropolitan Cincinnati area. The Enquirer featured the band in its Teenager section on January 14, 1967. At the time the members were John Reynolds, Donald Hodge, Jerry Foster, Gene Clarke and Ernie Bands [sic – should probably read Ernie Banks]. The article notes the Bad Seeds appeared at Granny's teen club in Elsmere, that the group would have an album in addition to the single, and also that "all except Ernie hail from Northern Kentucky".
As far as I know, the album never materialized, but nine months earlier a different version of the group traveled to New York to cut a single for Columbia Records featuring two original songs by the band, the Dylanesque "King of the Soap Box" (written by John Reynolds) and the fine 12-string song "He's Lying", written by Jerry Foster, both songs published by Red Brick Music, Inc BMI. Robert Mersey conducted and produced the single, released on Columbia 4-43670 in May, 1966
According to a comment by Lloyd McGlasson, the band's members on the single were:
Jerry Foster – six string guitar and backing vocals
Lloyd McGlasson – 12 string guitar and backing vocals
John Reynolds – bass and lead vocals
Earnie Banks – drums (Ernie Banks?)
Other sources list additional members, including Vicki Spencer on backing vocals on the single, and even Charlie Brown. Vicki Spencer would sing with The Bubble Gum Machine on their 1967 LP for Senate Records.
These Bad Seeds were not the Texas group who had three singles on J-Beck, nor the group from Oxnard, California with a single "Why Oh Why" / "Hearts of Stone" on TVA.