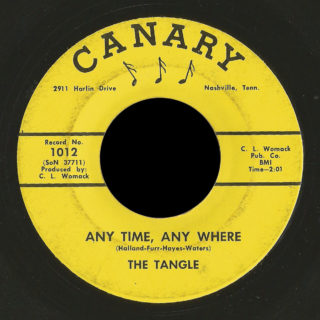 The Tangle recorded the very cool single "Any Time, Any Where" / "Our Side of Town" for Canary Records of Nashville, Tennessee in October 1966.
Alvin Holland and Nyman Furr came from Camden, Tennessee, about 50 miles west of Nashville, so that was possibly the base for the group.
Members included:
Alvin Holland – guitar and lead vocals (?)
Ronnie Waters – guitar
Nyman Furr – bass
(?) Hayes – drums
"Any Time, Any Where" has great riffing guitars and a relaxed Stones-like feel to the vocals and band.
When I can make out the lyrics to "Our Side of Town" they're wild: something about munching her box…lunch.
According to the labels, Halland, Furr, Hayes, Waters wrote both songs. C.L. Womack produced the single and also published both songs through C.L. Womack Pub. Co. BMI but I can find no copyright listing in the Library of Congress indexes.
Halland is a typo for Holland and a site for the Tennessee River Crooks band featuring Ronnie Waters on guitar listed the members of the Tangle as Alvin Holland, Ronnie Waters and Nyman Furr.
Holland, Waters and Furr later played in versions of Maggie Lee & the Percussions.
Nyman Furr passed away on March 10, 2007, according to Wikipedia.
Thank you to Max Waller and Mario Aguayo for their help with finding info on this band.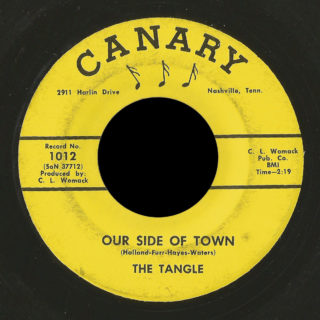 Canary Records had at least seven releases, most seem to be country music. J.C. Rhoton, Jr. shows up a lot on the labels, possibly he owned the label. Howard Rhoton may be his son, his "I'll Skip School" on Canary was advertised in Billboard on April 25, 1964.
Gower-Moore Studio seems to be connected to the Gower guitar makers in Nashville.
Canary had two Nashville addresses on its labels, 2906 Ironwood Drive and 2911 Harlin Drive.
Canary Records discography (any help with this would be appreciated)
Canary 1002 – Rhodes Boys – "Pretty Little Miss" (V. Rhodes, B. Rhodes, V. Rhodes) / "Got A One Way Ticket", prod. by Curtis McPeake, Gower-Moore Studio Production.
Canary 1008 – Howard Rhoton – "Look Back" / "I'll Skip School" (H. Rhoton, J. Rhoton), Gower-Moore Studio Production.
Canary 1010 – Bob Hayes – "Johnny Reb Was a Fighting Man" / "1862" (both by B. Hayes, C.L. Womack for Ironwood Music)
Canary 1012 – The Tangle – "Any Time, Any Where" / "Our Side of Town"
Canary 2001 – Barbara Dale – "Winner Take All" (Joe South) / "There Stands My World", produced by J.C. Rhoton, Jr.
Canary 2002 – Charlie Rife & the Chordsmen – "Are You Sure" (C. Rife) / "Here's the Key", prod by J.C. Rhoton, Jr, for J.C. Rhoton Music BMI
Canary 2003 – Barbara Dale – "Missing You Again" (Baker Knight) / "Greatest Show on Earth" (Mike Cain)