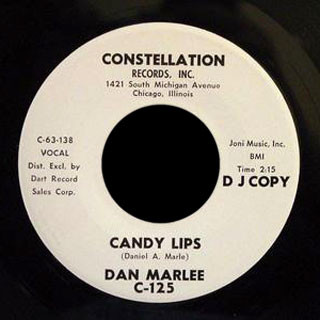 What do these three songs have in common? They're all written and sung by Daniel A. Marle, an enterprising teen who jumped from mild vocal pop to tough garage and psych within a span of two or three years.
First up is Dan Marlee singing his original "Candy Lips" (Joni Music BMI) b/w "You Left Me" on Constellation C-125 (C-63-138) from late '63 or 1964.
In May of '66 he's found a new style, convincingly singing "(You Been Givin' Me) Hard Times" as Danny & the Other Guys on C.P. Records 101. The flip is one I haven't heard yet, "Five For Fourteen Fifty", but the BMI credits give some names besides Daniel Marle that may have been the Other Guys: Richard Coker, Vincent Ippolito, Roger Pauly and Edmund Strom.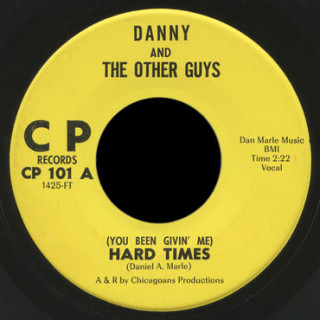 Finally is C.P. Records 102, with the band name changed to The Real List. They do Marle's "Pick Up the Marbles", a good mix of potent fuzz riffing and harmonies, with a poppier bridge. The b-side is a cover of the Beau Brummels' "Still In Love With You Baby".
Both the C.P. 45s produced by Chicagoans Productions, and Marle's originals published by Dan Marle Music BMI. Pressing info is obscure, I read 1425-FT on the Danny & the Others label and 1575-31 / 1600-31 on the Real List labels.
As Daniel Albert Marle he has some other songwriting credits with Robert Nass: "Boy Can Cry", "Could You Care For Me", "Cryin' Over You", "Gorilla Again" etc, published either by Arc Music or Don-Del Music in Port Washington, Wisconsin. I'm not sure if any of those songs were released.
Dan Marle started his own company, Mid Eagle Productions with occasional releases on Mid Eagle Records and Chicago Fire, mainly with Ral Donner:
Ral Donner with the Wednesday World – "(If I Had My) Life To Live Over" (written by Dan Marle, for Eighth of May Music & Emprise Music BMI) / "Lost" (Donner) on ME 101 in 1968,
Ral Donner – "Godfather Per Me" / "The Wedding Song" Chicago Fire Records CF-7402, released 1974.
Ral Donner – "The Wedding Song" (Brooks) / "So Much Lovin'" (Paxton), on Mid Eagle IRDA-275, arranged by James L. Mack
Ral Donner – 1935-1977: I've Been Away For Awhile Now on Mid-Eagle ME2M7902 from 1979, where Ral sings parts of 50 Elvis songs and narrates a history of Elvis!
The Platters Recorded Live in Chicago, on Chicago Fire Records CFS 7401, 1974.
This is all I can find on any of these bands or Dan Marle.